COPIE CONFORME / CERTIFIED COPY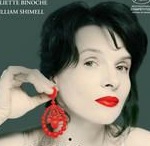 Wednesday, October 12 in Oechsle Hall, 224
2006 / 90 min.

Iranian master Abbas Kiarostami works in the West for the first time in this intriguing Tuscany-set story about love and (mis)communication. Playing with the question of what is fake versus what is authentic, Certified Copy opens with an English writer, James Miller, in Italy to promote the translation of his book, arguing that copies are just as good as "the real thing." The following day, Miller joins an unnamed woman on a car trip to the small town of Lucignano, setting the stage for one of Kiarostami's trademarks: serious disquisitions inside an automobile. After a café owner mistakenly assumes the two are a married couple, Kiarostami's film magically shifts, as Miller and the woman begin to act as though they are spouses in the midst of a marital crisis. Watching the two bicker and reconcile, we constantly wonder what the real nature of their relationship is: Are they really strangers? Are they trying to woo each other? In the process of figuring out the true connection of the couple onscreen, we may be left pondering what's real and fake in our own relationships.
Best Actress, Juliette Binoche – Cannes Film Festival (2010)
http://www.youtube.com/watch?v=uUVf1EUrK6U