L'AFFAIRE FAREWELL
Wednesday, September 21 in Oechsle Hall, 224
2011/ 112 min An adoptation from Sergey Kostine's Bonjour Farewell. Christian Carion's nail-bitin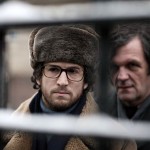 g espionage drama is based on little-known true events from the early 1980s that helped bring down the Soviet Union. In a neat bit of casting, the two leads of Farewell are played by prominent European filmmakers. Emir Kusturica (the Serbian director of 1995's Underground) is Sergei Grigoriev, a KGB colonel who has become completely disillusioned with Communism under Brezhnev; he leaks highly classified documents to a French spy, Pierre (Guillaume Canet, an actordirector best known for helming 2006's Tell No One). This top-secret information makes it way to the head of French intelligence, the CIA, and President Reagan. Beyond the Cold War international intrigue, Farewell is also a compelling study of the domestic lives of secret agents. Sergei, based on the real-life Vladimir Vetrov, constantly clashes with his teenage son, Igor, who's obsessed with Queen and the music of other forbidden "decadent" Western pop artists. Igor has no clue that his father hates Brezhnev as much as he does—or that Sergei is undertaking his traitorous activities in the hopes that his son will have a better life.