LA BELLE ENDORMIE
Sleeping Beauty
Wednesday, September 28 in Oechsle Hall, 224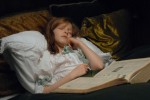 Catherine Breillat (France)
2008 / 82 min.
As she did in 2009's Bluebeard, Catherine Breillat—cinema's most consistently intelligent investigator of female sexuality—has provocatively deconstructed another classic children's tale by Charles Perrault, upending conventional ideas about sex and gender. An infant girl is cursed to die at a tender age by a wicked witch; three good fairies recast the spell so that our heroine, Anastasia, will sleep for 100 years when she turns six, waking up as a beautiful teenager. In her prolonged slumber, the stalwart child declares her hatred for "the world of little girls" and their fondness for princess-y things, much preferring to get lost in her dictionary and the universe of new words. Her vivid dreamscape also includes adventures in a remote forest, where she is taken in by a widow and her teenage son, Peter; after further encounters with dwarves and albino monarchs, Anastasia finds a kindred spirit in a Gypsy girl. At last waking up from her century-long sleep, 16-year-old Anastasia discovers carnal pleasures with both a man and a woman—as well as crushing heartbreak.