Cosmic Cup Review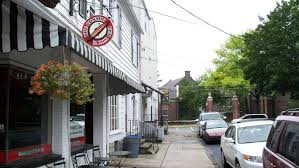 Cosmic Cup is a café located on March St. in Easton, PA, one block away from Lafayette College's campus. There has been an increase in discussion surrounding Cosmic Cup being that there was a change in ownership this past summer. The new owners already own another coffee shop in Bethlehem, PA under a different name. Cosmic lies up on the hill of Easton which is a bit separated from the main town leading me to believe that its main clients are Lafayette students.
My first impression of Cosmic was poor. The tattered black and white striped awning and sign make it easy to find but overall the storefront was not very aesthetically pleasing. Upon entering, I was a bit more impressed, the walls are a light blue with occasional accents of black and white. The menu was clearly painted on the wall and easy to decipher with streamlined options. The worst aspect of the place was by far the seating. There were metal chairs and a stiff wooden bench on the main floor and a couple stool seats by the window. There was no comfy seating that would encourage you to stay for a while. I walked up to the counter and was greeted by a friendly young girl, probably a Lafayette student, who answered my questions helpfully.
I ordered the iced coffee which came out within three minutes. They had a classic syrup pump in their coffee prep station which is different than many other coffee shops I've been to where you have to ask for them to add it. This was definitely a positive. The coffee itself was very good as well. It was mildly acidic with a light aftertaste, but not overpowering. It tasted like a medium roast and a bit nutty. Overall, it was very good and I would order the ice coffee again.
Cosmic Cup is not a place to sit-down, relax or get work done because of its small interior and poor seating options. But, its competitive pricing, fast service, convenient location and solid coffee make it a great grab and go option.
Outside:6
Inside:7
Customer Service:9
Seating:4
Coffee:8
Overall Grade:6.8/10
---
---