Coffee of Grace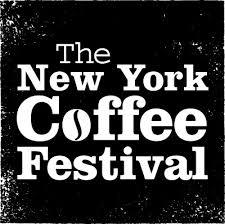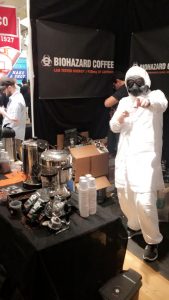 Three weeks ago, I had the opportunity to visit five coffee shops in Lower Manhattan and then subsequently attend the third annual New York Coffee Festival. At the festival, I visited approximately fifteen booths, most of which were roasters advertising and selling their coffee. All of the booths tried to pull in visitors through the use of various tactics. The Kitu booth used young, loud, energetic guys to pull people in. Biohazard coffee had one of their employees dressed up in a Hazmat suit to catch eyes. When approached, each booth made sure to highlight what differentiates themselves from their competition. Oatly, Joe Coffee Company and Chameleon Cold were some of my favorite booths.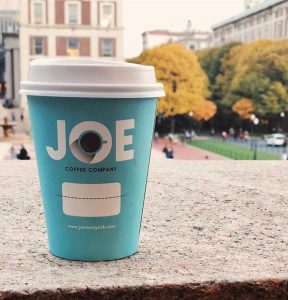 Oatly sold oat milk which I thought was very good in the lattes they served. I thought Joe Coffee Company coffee was solid and I really liked the design and color scheme of their logo. Lastly out of all the cold brews I tried, Chameleon Cold hands down had the best flavor and wasn't overly bitter. However, one booth stood out from pack and that was Coffee of Grace.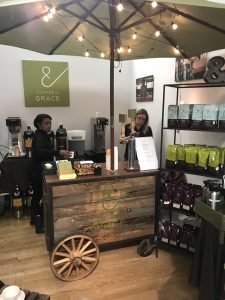 Coffee of Grace's booth wasn't flashy or boasting some new technology or unique product. It was actually quite the opposite. The Coffee of Grace booth featured a little wooden pushcart topped with a green umbrella laced with string lights. Their setup was neat and simple. The wood accents nicely complemented the company's green and white color scheme. The best word to describe their booth was quaint.
They offered three filtered coffees and two cold brews for tasting. I tried the Karisimbi blend which is a medium dark roast described as round and full bodied with flavor notes of dark chocolate.(Coffee of Grace) Like all the blends Coffee of Grace offers, it originated from Rwanda, in this case from Maraba (North Rwanda), Nkora (West Rwanda) and Buf Café (South Rwanda). Coffee of Grace named this blend, Karisimbi, after Mount Karisimbi, an inactive volcano in the Virunga Mountain. I remember it being well rounded and tasting chocolate and nuts. There was also no unforgiving acidic aftertaste. The coffee was very palatable and comforting for it being black. Overall the delicious coffee and clean design of there booth left made it my favorite upon leaving the festival. Later, after reading up on Coffee of Grace, these thoughts were further confirmed.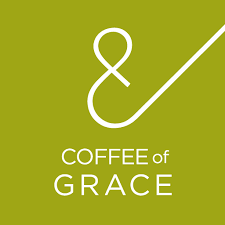 Coffee of Grace is a coffee wholesaler based out of New York that was founded in 2012 by Grace Hightower De Niro. The company founder Grace Hightower De Niro hails from Mississippi but moved to New York in 1975. She is married to famous actor Robert De Niro and has two children. Grace was inspired to start the company after her visit to Rwanda. Coffee of Grace's logo is a simple vertical green rectangle overlayed by a white "&" sign and the company name. The company sells coffee roasts (ground or whole) originating from Rwanda. Coffee of Grace sell theses roasts through their website wholesale to cafes or directly to individual customers. There was no information that could be found on to whom they sell or where their product is found elsewhere so I reached out to the company via email. I got a quick response from company representative Sandra who stated that it can be purchased at Dean & Deluca, Battery Place Market and seasonally in Crate & Barrel nationwide. As far as Coffee of Grace's wholesale accounts, one cafe in Brooklyn serves their coffee: Bookery Inc. and their coffees are also served in all Nobu restaurants nationwide, The Williamsburg Hotel in BK, The Walker near Union Square and many other hotels and restaurants in the area. There is no information indicating the size of the company but the lack of following on their social media compared to other roasters lead me to believe they are a smaller and more regional vendor.
Grace Hightower launched "Grace Hightower & Coffees of Rwanda" in 2013 with the mission of improving Rwandan livelihoods by marketing their products internationally. Coffee of Grace's mission statement says that they,
believe that good business means doing good for the communities in which (they) work" and that "through direct sourcing, fair trade, ethical practices and environmental stewardship, their dedication to the coffee farmers around the world will allow them to create a sustainable business that can be passed from one generation to the next.(Coffee of Grace)
This emphasis on coffee farmers is prioritized by many other coffee roasters as well. Coffee of Grace prides themselves on their coffee being purely grown, select harvested and direct traded. As noted on their website, for them, purely grown means that the coffee is grown with only three ingredients, water, sun and soil. "Select harvested" means that they select harvest by hand only when ripe. Lastly, for them, 100% direct trade means meeting their five point standard. This five point standard is unique to Coffee of Grace. The five point standard requires physical site visits to farms by a Coffee of Grace representative, personally managing all freight forwarding from the farm to roastery, all producing partners agreeing to quality standards of Specialty Grade coffee, all of the co-ops they partner with support the farmers through education and access to necessary resources and, lastly, that payment terms are determined by quality and the commodities market is ignored and premiums are paid above Fair Trade minimums.
In a three minute YouTube video created by the company, it is said that love is the passion behind Grace Hightower and the coffees of Rwanda. The video also mentions that since the genocide, the Rwandan people have had the desire to create for themselves and move forward with life. During the Rwandan genocide of 1994, members of the Hutu ethnic majority in Rwanda murdered as many as 800,000 people of the Tutsi minority.(History) This subsequently tore apart the economy and created even more widespread poverty. By talking about the Rwandan genocide Coffee of Grace wants customers to know that the company truly cares about the Rwandan people. The video also states that Grace wants to share with the West what is going on in Rwanda in hopes for them to have a better appreciation for the product. It's important to note that money is not mentioned as a motivation for starting the company and the U.S is not shown, even though the company is based out of the U.S.
Coffee of Grace has gained much coverage over the news, possibly due to Grace Hightower De Niro's celebrity status. These publications tell the same story about the companies rise and motivation behind their practices. The New York Coffee Festival team refers to the brand as "inspiring" in an article published preceding the festival.(NYCF) In 2014, the New York Daily News published an article titled, "Celebrities like Martha Stewart and Ralph Lauren launch gourmet coffee lines." The articles talks about the many celebrities who have recently dove into the coffee business including Martha Stewart, Ralph Lauren, Hugh Jackman and Grace Hightower De Niro. The articles states that, "food is fashionable" and "for many of (these celebrities) it's a hobby"(NYDN). These statements may leave readers to believe that celebrities are running these companies just for fun and aren't fully invested in them possibly decreasing their support. The article also states that Grace is running the company as a form of philanthropy. The Wall Street Journal published an article about Grace and her endeavors as well. The article gives the story of how Grace's visit to Rwanda inspired her to start the company. The article also states that, "Ms. Hightower De Niro travels often to Rwanda to oversee the beans' handpicking, sorting and washing, along with every aspect of packaging and distribution." By speaking upon how involved Coffee of Grace's CEO is from crop to cup the WSJ is putting the company in a positive light. It's important to note that the New York Daily News is not known as an extremely credible source. The company is known for sensational headlines and producing hard hitting journalism. The Wall Street Journal on the other hand is known for a high level of factual reporting. From reading these outside viewpoints it seems that the community at large believes that Coffee of Grace is truly carrying out their mission and is doing good in the world.
I believe Coffee of Grace's success derives from their ability to sell customers on two things, tasty coffee and positive community impact. I was not aware of the Company's backstory when I tried their coffee. All I remember being told was that it was a dark roast originating from Rwanda and that was enough for me to fall in love with their product. I also enjoyed the simple design and calm nature of the booth. Visiting Coffee of Grace felt like a nice break from all the hustle and bustle of the coffee festival. Upon learning about the company, I was only further compelled to support them. It seems to me that their mission is to improve the lives of the Rwandan people by improving trade. I believe that this is much better than just giving aid because it helps build sustainable economic growth. Coffee of Grace is a socially aware company doing great things in Rwanda and if I were to return to the New York Coffee Festival in the future I would make it a point to stop by and learn even more about the company.
Works Cited
"Coffee of Grace." Bed Bath & Beyond, www.bedbathandbeyond.com/store/s/coffee-of-grace?ta=typeahead.
"Coffee of Grace." Katie Couric – You Can Watch #GenderRevolution Right Here,…, www.facebook.com/CoffeeOfGrace/.
ctMAGAZINE. "Coffee of Grace." CoffeetalkMAGAZINE, 1 Apr. 2013, coffeetalk.com/ctmagazine/04-2013/4904/.
"From Crop to Cup – Rwandan Coffee." Coffee of Grace, coffeeofgrace.com/?v=7516fd43adaa.
Grace, Coffee of, director. Love. YouTube, YouTube, 27 Jan. 2017, www.youtube.com/watch?v=COlYp_pP7mE.
Hughes, Liza. "De Niro Family Adds Coffee Making to Repertoire." CNBC, CNBC, 1 July 2014, www.cnbc.com/2014/07/01/de-niro-family-adds-coffee-making-to-already-impressive-resume.html.
Mitchell, Heidi. "Where Grace Hightower De Niro Finds Serenity." The Wall Street Journal, Dow Jones & Company, 13 Jan. 2016, www.wsj.com/articles/where-grace-hightower-de-niro-finds-serenity-1452717358.
"New York Coffee Festival Blog – Empowering Those around the World." The New York Coffee Festival 2018 – What's Happening, 20 July 2018, www.newyorkcoffeefestival.com/Blog/July-2018/Empowering-those-around-the-World.
"New York Daily News." Media Bias/Fact Check, mediabiasfactcheck.com/new-york-daily-news/.
---
---