Advertising in the Coffee Industry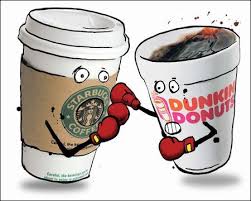 Starbucks and Dunkin Donuts are the two largest coffee chains in the United States. Their ads appear everywhere, on TV, billboards, shirts, online, etc. But how do these giant companies decide how to run their ad campaigns and how to invest their resources? In this post, I will be looking at these two companies and their advertising campaigns/strategies.
When searching "Starbucks" in Google, the top hit is the company's webpage with a box that says 'ad' on the left. This box denotes that Starbucks paid Google to have their website at the top of the page when their company name is searched. Upon opening the Starbucks' site, their Christmas Blend is on the home page. A brief description of the blend, ending with, "Grab a bag before we're all out" is written under a picture of the bag. This makes the product seem exclusive and persuades customers to act now when, in reality, Starbucks will probably not run out of the blend. Starbucks does not run traditional ad campaigns to the extent of other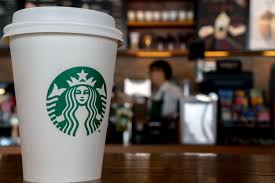 companies but when they do advertise, the company promotes their seasonal beverages like pumpkin flavored drinks in the fall and peppermint flavored drinks in the winter. In past years, the company has only spent 1.4% of their yearly revenue on advertising while other large companies like Coca-Cola and Nike will spend around 11% of their yearly revenue on marketing. Starbucks Marketing executive, Brad Stevens, stated, "So much of the relationship with the company exists between you and that barista behind the bar"(Seattle Times). The company doesn't feel they can fully capture this experience in an ad campaign. This strategy seems to have worked considering over the past ten years, the company's revenue has been consistently increasing at a rate of 12.4% per year.
Although Dunkin Donuts' official page is the first result when "Dunkin Donuts" is searched in Google, there is no ad box to the left, denoting that the company does not pay for keyword searches. When opening their website, the homepage consists of bright pink, orange and brown colors and the Dunkin Donuts customer rewards program is front and center. Many companies have recently adopted these programs to encourage customer loyalty. Also notably, there are no holiday advertisements or promotions featured on their site. The company does not focus on seasonal trends like Starbucks does. Dunkin Donuts is competitively priced,
catering to the average American who wants a consistent cup of coffee and doesn't value specialty drinks. Dunkin Donuts will often sponsor teams or large events where they will give away branded swag and free drinks. They are the "Official Coffee" of the Baltimore Ravens, New York Knicks and a handful of other teams. The company is also known to utilize TV and billboard advertising. On these ads, Dunkin Donuts displays its "low prices" and "hot deals." Dunkin Donuts' ad campaigns seems to be working in that the company's net revenue has been growing at a consistent yearly rate of 5.5%.
https://www.seattletimes.com/business/starbucks-takes-unique-approach-to-marketing/
https://www.dunkindonuts.com/en
https://www.starbucks.com
https://adage.com/article/agencies/dunkin-donuts-picks-publicis-media-u-s-media-agency/314050/
Why Starbucks Chose to Forego Traditional Advertising for So Long
---
---