Cosmic Waves Over New Ownership
Is the new Cosmic good? What's different? How's the coffee? These are some questions that have been circulating around Lafayette's campus as classes recently started this fall. Cosmic Cup is a coffee shop in Easton, PA, one block away from Lafayette's campus. While the name stayed, ownership of Cosmic Cup changed this past summer sparking discussions. Some stand by the old Cosmic and hate what new ownership has done, while others love the change and think the coffee has gotten infinitely better. The new owner completely redid the interior as well as the menu, and also changed the coffee they brewed. This owner already owns "The Joint", a popular coffee shop in the nearby town of Bethlehem. There has already been an ongoing debate on the best coffee place around, and this change is causing people to reevaluate their go-to spot. Cosmic's main competitor, Mojo, situated only a few storefronts down, is also extremely popular. Students like Mojo's modern interior,seating options and consistent drinks.
Through my interviews, I learned that people's opinions and feelings on the change in ownership of Cosmic Cup varied from not caring at all to having very strong opinions. I interviewed Sam Mascaluso, a Lafayette senior, Ben Jahre, Head of Electronic Resources at Lafayette, and Professor Corvino, amath professor, all different ages and hailing from different areas of the school, in hopes to see what they think of the change. Sam drinks coffee about twice a week, tends to go to Mojo, and always orders iced coffee. She also shared some opinions of her peers had on the change. She's been to Cosmic a few times under the old ownership, but has only gone to Cosmic twice this year. My second interviewee, Ben Jahre, drinks coffee almost daily and prefers classic drip coffee and cappuccinos. He is a loyal customer to Cosmic and still goes one to two times a week even since the change in ownership. Professor Corvino runs off coffee and has several cups a day every day of the week. He tends to go Skillman Café but will still hit Cosmic once or twice a week, more than he has in previous years when he would only go about once a month.
Sam didn't have much to say about the old Cosmic Cup but did appreciate that service was quick and thought the decor was appealing. Mr. Jahre also said that he liked the décor better in old Cosmic: "They featured an art collection from a local artist on the walls which they would frequently rotate." Professor Corvino felt old Cosmic had a good "vibe" and also liked the artwork.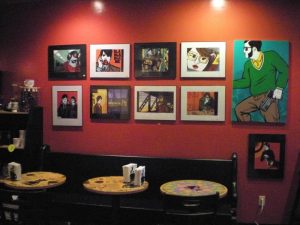 Although the old paint color didn't necessarily bother them, all three mentioned it was a bit dark inside. Professor Corvino was not a big fan of the self-serve drip coffee they served: "There weren't many flavor options and the coffee was often bitter or weak". He thinks that the self-serve pots attributed to the lack of consistently in the drip coffee. Employees could forget to rotate the pots and customers are in the dark in knowing how long the coffee has been sitting there. Mr. Jahre, on the other hand, liked being able to pour his own coffee. He had control over how much room was left for milk and sugar. He also mentioned that old Cosmic had a very warm atmosphere and the employees were very friendly.
The first major change that my interviewees noticed when ownership changed was the modification of the color scheme. The inside is now painted a light blue which Sam and Professor Corvino saw as a positive and felt lightened up the inside. Sam and Mr. Jahre also mentioned the bareness of the walls and the needto add artwork and to decorate better. Professor Corvino said, "It has to develop an atmosphere". After visiting this past week to see what they were talking about and I agree. It had a dead feel and it looked as if whoever was in charge of decorating quit halfway through the job. When asked about the change in coffee itself, all responses were positive. Sam liked the iced coffee and Professor Corvino will now drink the drip coffee there. Mr. Jahre feels the blends in the new roaster are "smoother and more reliable, but espresso drinks are not as strong". Professor Corvino described the coffee as "not overly strong or bitter" and is now a big fan of the Cortado.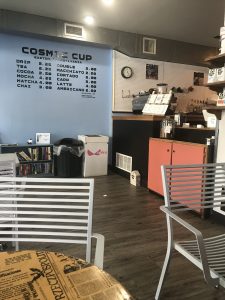 Professor Corvino does not like the seating options they offer. He feels they are limited and not comfy. Mr. Jahre and Sam tend to get their coffee to go and did not have strong opinions on the seating. When Cosmic redid the interior, the register was moved from the side of the store to the front. Mr. Jahre felt this "improved the flow of people" and was a good move by ownership. They also updated their register system to Square which he feels makes checkout faster. Mr. Jahre added that employees were friendly and nice in general but he and his colleagues has had a bad experience with one employee in particular who Mr. Jahre described as off-putting and rude.
The general consensus is that the coffee has improved but the interior gotten worse. All my interviewees felt new ownership should put more pictures on the wall and develop an identity for the shop. Professor Corvino suggested switching out their metal chairs for more comfy options. Sam definitely felt the less modern look pushed away students who in general care more about aesthetics. Professor Corvino and Mr. Jahre said the changes are not and will affect their frequency o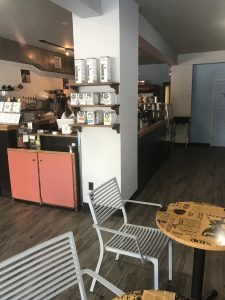 f visits but if there were better seating options they would be more likely to spend more time in there. Sam, who often goes to Mojo, noticed an increase in its popularity with students and feels it could be because of its cleaner and more modern look than Cosmic. Going forward if Cosmic wants to improve customer satisfaction and increase their sales they should create an identity and make the store feel more homey. It has tough competition two storefronts down but with its superior coffee Cosmic has the potential to grow in popularity.
---
---