Love Motel for Insects: Easton Variation
Call it performance art. Only in this exhibition the performers have three pairs of legs and tiny wings.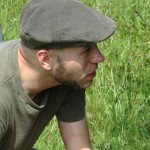 Welcome to Brandon Ballengée's Love Motel for Insects: Easton Variation. Ballengée's sculptural installation at the Williams Visual Arts Center on North Third Street uses ultraviolet lights to attract insects for public observation. The black lights combined with a reflective polyester fabric creates a glowing habitat that draws nocturnal bugs such as moths and mayflies for lively arthropod nightlife and mating. Inspired by microscopic details, the sculpture will resemble scales of moth wings made enormous and glowing.
The Love Motel for Insects is designed to give audiences a better appreciation for local ecology and insect biodiversity. Insects and other arthropods "make up 80 to 90 percent of the species on our planet but there is still so much to learn about them," Ballengée says. "Unless they are somehow useful to us like honey bees or aesthetically pleasing like butterflies, we don't normally have reason to be looking at them."
Ballengée seeks to change that with his outdoor installation that is the antithesis of a Bug Zapper. Instead of attracting bugs to harm them, the installation creates a compelling microhabitat that's good for breeding. The sculptural canvas can take on interesting colors as female moths release chemical pheromones to attract males and "paint" the piece.
"The surfaces get little tiny dots," he says. "It's like arthropod expressionism made by mini segmented Jackson Pollocks."
Observers don't have to worry that the Love Motel will attract the riff-raff of bug life. The structure doesn't lure many mosquitoes, ticks or other insects that bite.
Ballengée built his first Love Motel for Insects in Costa Rica in 2001, where it quickly attracted moths, beetles, and other arthropods – and students who were fascinated by them. Since then, the Love Motel installations have appeared on boats in Venice, moors in Scotland, London roof tops, Korean mountaintops, Irish bogs, summer camps in New England and inner-city bus stops, among other sites. Ballengee recently returned from New Delhi, India where he joined with the Ecohaven Project of Chicago to construct "Econnect Love Motel for Insects" at the outdoor plaza of a busy shopping center.
Based in New York City, Ballengee is working towards a trans-disciplinary doctorate in exploring environmental art and primary research biology with Plymouth University in England in collaboration with the Zurich University of the Arts in Switzerland.
Find Love Motel for Insects at map location 10