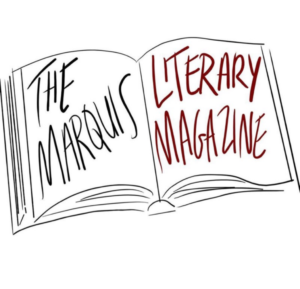 Welcome friends, family, faculty, alumni, visitors, and more to the new Marquis Literary Magazine website! On here you will find the digital archives of the previous editions of our wonderful publication, author spotlights ranging from our very own staff members to the extraordinary professors and guests Lafayette College hosts, events on campus that our club supports and sponsors, writing competitions, prompts to spark inspiration, writing tools our staff uses to aid them, as well as all our contact information for all your literary inquiries.
For those who are new to LitMag, we are a student run, school sponsored creative publication that accepts work in any form; from poems to short stories to photography and art. Submissions are received and peer reviewed anonymously at weekly meetings, where positive and constructive critiques are recorded and sent back to the author, along with the vote of the staff. There is no limit to how many times an author can submit, nor how many times a piece can be resubmitted if it is rejected. To join the email list, simply send us an email to themarquis@lafayette.edu.
This is going to be a great year, so get writing! We hope to see you at an event, meeting, or in our inbox! Comment below what you're excited about this year, what you think of the website, and any suggestions about what you want to see!