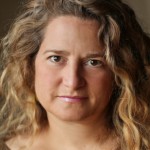 Stacy Levy

People pass over the Bushkill Creek every day on their daily commutes but how many of them really look at it?
Stacy Levy seeks to change that with the Bushkill Curtain, an installation of strings of blue-painted buoys, attached like a beaded curtain across the archways spanning the creek beneath the building at 248 North Third Street.  The buoys sit on the surface of the stream after a heavy rain, shifting with the currents or the wind.
Its moving form is meant to evoke the stream's density like a beaded memory of high water, marking the movement of water and wind, rise and fall of the creek, and changing waterflow.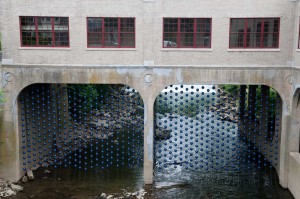 Bushkill Curtain. Photo by George Panichas
It's one of dozens of art installations Levy has done around the United States and abroad. She got her start in forestry so weaving her art into the landscape is a natural extension for her.
"When you work with nature, it's incredibly dynamic, it's always changing, nothing stays the same," Levy says. "Somewhere along the way I realized I wanted that to happen with my artwork, that it would always change."
Heavy rainfall from tropical storm Irene quickly raised the water in the Creek, the turbulent water is evident in the video shot on August 28, by Dave Brandes, associate professor in the department of civil and environmental engineering,  and posted on the Bushkill Creek Dam project website. Additional images of post tropical storms and Irene and Lee Blue Curtain will  posted in the Bushkill Curtain Gallery.
Levy, who lives on an 80-acre farm in Spring Mills, Pa., often recycles her materials from other exhibitions. The buoys were painted pink and yellow for "River Eyelash," in which long strings of them radiated out from the point at Point State Park into the confluence of the Allegheny and Monongahela rivers during the Three Rivers Arts Festival in Pittsburgh in 2005. You can see more of her art at www.stacylevy.com
She hopes people who see the Bushkill Curtain as they go about their lives will see something new each time. "I'm into drive-by art," Levy says. "My favorite audiences are people who wait for buses" because they see the art and nature change over time.
Her Blue Lake – a 30 by 45 foot installation created from a memory of the Salmon Lake in Maine — was exhibited in the Williams Center Gallery at Lafayette in 2005. The artwork used hundreds of transparent blue vinyl discs on stems to evoke the sense of water that viewers were able to walk through.
Levy earned a bachelor's degree in sculpture from Yale University with a minor in forestry and a master's of fine art in sculpture from Tyler School of Art at Temple University.