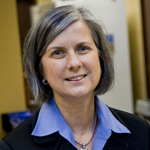 Dear Colleagues,
I am delighted to introduce you to Lafayette's START—it STarts with ART—Project.  Thanks to generous funding from the Andrew W. Mellon Foundation, the START Project aims to facilitate the integration of the visual and performing arts into curricular and co-curricular activities throughout the College, enhance art programming in our expanding arts facilities, and support short residencies by visiting artists who will work with all students in a variety of endeavors.
At Lafayette, we seek to graduate broadly educated students who become thoughtful leaders and engaged citizens.  Experience with the arts, one of the deepest forms of human expression, is a core component of this broad education and speaks to the fostering of curiosity and creativity evident throughout all of our curricular programs. The START program, a multiyear effort to more fully integrate experiences in the arts throughout the campus, will expand all students' opportunities to explore, reflect, and create.
I invite you to participate in the START Project, and I look forward to seeing the wonderful work and participating in the thought-provoking conversations generated by this exceptional opportunity.
Wendy Hill
Wendy L. Hill
Provost and Dean of the Faculty
Rappolt Professor of Neuroscience
Lafayette College
Easton, PA 18042