Khadijah Akeem
Khadijah is a junior from Washington, D.C., and is an Africana Studies and History double major with hopes to become a professor in the future. Khadijah has been a resident in the Mckelvy House for 1 year and is working on the second. On campus, she is involved in a variety of activities. Currently, she is a PARDner, a writing associate (WA), the president of the Association of Black Collegians, and the Social Programing Chair for the Mckelvy House.
In her spare time, she enjoys crafting poetry about nature, the plight of marginalized individuals, and her life experiences. Within her major, she had the opportunity to study abroad with her favorite professor, Professor Wilson-Fall, to Senegal for an interim trip. Khadijah has also been able to partake in two independent studies within the Africana Studies Department. Aside from academics, she is bibliophile who love love loves Game of Thrones and many other shows.
Alex Murrell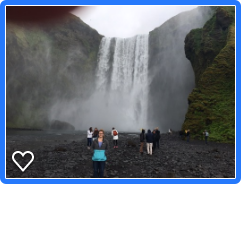 Alex Murrell is a rising Junior pursuing a BS in English, a BS in Art, and a minor in Mechanical Engineering. She is originally from the small town of Dripping Springs, Texas. Growing up, Alex was always interested in both the STEM field and the Arts, so when it came time to look for colleges Lafayette was the perfect choice. From the beginning, it was clear that it would give her the opportunity to take classes that greatly range in subject matter every semester.
On campus, Alex has been involved with the Society of Women Engineers, Arts Society, has helped to curate the Marquis Literary Magazine, and has been a McKelvy Scholar since her Sophomore year. This year she will be the RA for the McKelvy house and is excited to participate with the house in a new way.
Xiaoxiao Ma
Xiaoxiao is a junior from Chengdu, China. She is an art history, classics and Italian Renaissance double major. Xiaoxiao has changed her second major from theater to philosophy and then to classics, because she finds that she is not interested in working together with people or comtemplating on questions about this world. Comparing to political and social issues, Xiaoxiao would like to spend more time on appreciating a kiss by Pygmalion in the "Metamorphosis," the green eyes of Beatrice in the"Devine Comdy," or a bite of Madeleine cake in "In Search of Lost Time." Xiaoxiao is also a Marquis Scholar, Rothkopf Scholar and Eugene P. Chase Phi Beta Kappa Scholar. Basically Xiaoxiao does not like to talk or to be social, but she is always happy if you are discussing neoplatonism with her, or, you are inviting her to try a Michelin restaurant.
R. Brad Au
I am a junior studying Government and Law and History. This is my second year at McKelvy House and I serve as recruiting chair. My hometown is Rancho Palos Verdes, California, where I grew up with my parents and younger brother. I am an American history buff; Gettysburg is now only two-and-a-half hours away by car instead of a plane flight away. I love the East Coast, though there is no place like California. I like sight-seeing, Dodgers baseball, reading Steinbeck, and researching his family genealogy (I am descended from two samurai clans and the old kings of Okinawa).
I am a cadet in the Lehigh University Army R.O.T.C. Steel Battalion and spend a fair amount of time at Lehigh University and have Mountain Hawk friends. I am on the Ranger Challenge team and serve on color guard details.I intend to become an attorney and officer in the Judge Advocate General's Corps.