Last Summer, eight local writers escaped to the Highlights Foundation in Honesdale, PA for one week as part of the inaugural LVEHC Writing Retreat, focusing on the theme of "Sense of Place." These writers represented a variety of levels and genres, from amateur prose-writers to professional poets. Four of these writers (Sienna Mae Heath, Cleveland Wall, Kerri Tollinger and Katherine Falk) participated in October's Easton Book Festival, reading selections from the works produced on their retreat at Connexions Gallery in Easton.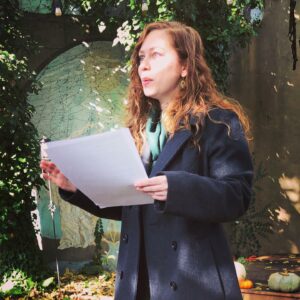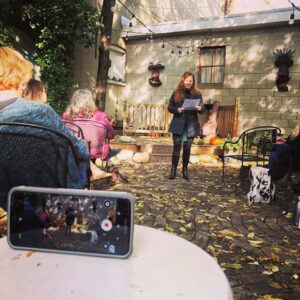 (above: Sienna Mae Heath reads an excerpt from her memoir)
Below is one of the poems, written and read by Cleveland Wall, "Bus Riders."
This is the away place
for casino trippers,
daylight revenants
shuttling back and forth
from Queens to Bedlam
on a thin, thin margin.
Selling vouchers
at black-market discount
they net enough to tip
the driver, buy
the next day's ticket,
pocket $20, minus food.
Such largesse from a casino
is hard to figure, but then
someone always falls.
Enough someones fall
under the dealer's rake
to make it all pay.
Others bide by the riverside,
where they're rumored
to poach geese or
unlicensed fish, plunder
the occasional vegetable
patch. Five hours from bus
to bus is long to fill
with window-shopping,
tai chi in the park. Some
shelter on the far side
of the river, riverstones
laid with care from
water's edge to makeshift
pied-a-terre, little
home away from home.
~ Cleveland Wall, 2019