In the late 1990s, the Bethlehem Steel halted production on its last remaining blast funace. To help guide the community through the trauma of this change, SouthSide Bethlehem's Touchstone Theatre created a festival called "Steel Festival, The Art of an Industry." To commemorate the 20th anniversary of the Steel's closure and the success of Steel Festival, Touchstone Theatre has brought together musicians, artists, and community members to form "Festival Unbound," sponsoring numerous productions, events and performances across the Lehigh Valley over a span of 10-days.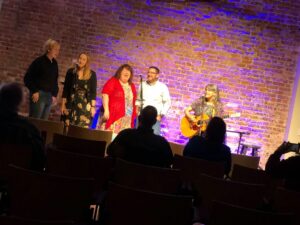 One of these, Poets Troubadours and Troublemakers, was sponsored in part by the LVEHC. Poets, Troubadours and Troublemakers brought together several local musicians (led by folk artist Anne Hills) in the creation of original music inspired by the theme of Sense of Place in the Lehigh Valley. This music was then performed live over three evenings at various Lehigh Valley venues, culminating in a performance and post-performance panel discussion at Godfrey Daniels on October 11, 2019, including "Change is All We Know" by Andrew Dunn and Amanda Penecal (below).
Click here to read more about Festival Unbound and Touchstone Theatre.