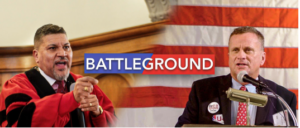 Thursday, March 18, 2021 at 7:00 p.m.
Moravian College Political Science Department  invites​ ​you to attend a public​ ​documentary screening and a moderated discussion with filmmakers. "​Battleground​"(2020). This public documentary follows two grassroots activists in the pivotal counties of the Lehigh Valley, PA.
Registration is required​ , go to https://www.moravian.edu/battleground-doc​,
and then enter your email address and receive the link to watch in your inbox.