Join the Karl Stirner Arts Trail as they welcome the newest installation on the trail: Brandon Ballengeé's Love Motel for Insects: Anax Junius Variation.
This installation is part of the LVEHC Mellon grant. We invite you to engage and learn more about the piece and it's significance on the trail starting Sept. 6 through Sept. 10. See the event schedule below:
Friday, Sept. 6: Bug & Burger BBQ at the sculpture site @ the 13th St. Arts Trail entrance, 5:00-8:00 p.m.. Bug collection and discussions will be led by Brandon Ballengeé.
Saturday, Sept. 7: Symposium in Landis Cinema, Buck Hall.
9:30: Coffee and breakfast bites
10:00 – 11:30 AM: 10-15 minute presentations from our guests on their specialty in relation to the Bushkill Creek.
11:30: Round table discussion with all presenters.
Noon: Lunch on the plaza, bug display, fly casting & tying demo and other related displays, demos.
1:00-2:30 p.m.: River demos and projects at the KSAT Blue Bridge, including Seining, River Rock Investgiation & Creature Collection and Fly Fishing Demo
2:30: Streamside chat, an open forum to share stories and observations of the Bushkill Creek
Monday Sept. 9 – Brandon Ballengeé residency at Lafayette College. 4:15 PM lecture on campus
Tuesday, Sept. 10 – additional morning classes, lunch & early afternoon class.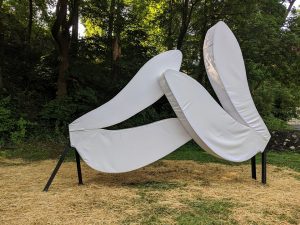 Up to date information about the installation and related events can be found here.