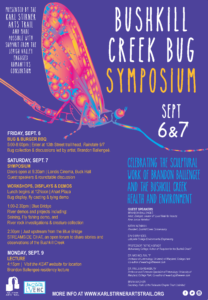 Join the
Karl Stirner Arts Trail
 as they welcome the newest installation on the trail: Brandon Ballengeé's Love Motel for Insects: Anax Junius Variation.
***UPDATE: The BBQ has moved to tomorrow, Saturday, Sept. 7, 2019, from 5:00-8:00 p.m. due to rain forecasted for tonight. Thank you!
Friday, Sept. 6: Bug & Burger BBQ at the sculpture site @ the 13th St. Arts Trail entrance, 5:00-8:00 p.m.. Bug collection and discussions will be led by Brandon Ballengeé.
Saturday, Sept. 7: Symposium in Landis Cinema, Buck Hall.
9:30: Coffee and breakfast bites
10:00 – 11:30 AM: 10-15 minute presentations from our guests on their specialty in relation to the Bushkill Creek.
11:30: Round table discussion with all presenters.
Noon: Lunch on the plaza, bug display, fly casting & tying demo and other related displays, demos.
1:00-2:30 p.m.: River demos and projects at the KSAT Blue Bridge, including Seining, River Rock Investgiation & Creature Collection and Fly Fishing Demo
2:30: Streamside chat, an open forum to share stories and observations of the Bushkill Creek
Monday Sept. 9 – Brandon Ballengeé residency at Lafayette College. 4:15 PM lecture on campus
Tuesday, Sept. 10 – additional morning classes, lunch & early afternoon class.