In the LVAIC Documentary Storymaking classroom, I was told over and over again that documentary is about reactions to the world, allowing the story and community to shape the work. Later, as part of a Film Scholars program at Scribe Video Center in Philadelphia, I was told that documentary is a pursuit of understanding and that stepping into the work with all of the answers was almost always an illusion.
These statements have held true as I reflect on how this Spring LVEHC Collaborations with Artists Grant has supported this project so far.The story I thought I was going to tell has transformed in ways that are both intimidating and exciting, but more importantly, that transformation has been in conversation with the story and the community that story is taking place in. We have changed both our title and our form in order to responsibly tell a story that cannot be told without trust, vulnerability, relationships, and time.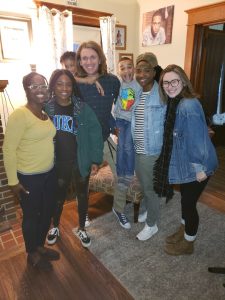 The ambitious team working on this project has already allowed for this to start and shows no signs of slowing down. It has been the most exciting creative collaboration that I have been a part of and the work that is being produced in this collaborative space has benefited from the close community investment that would not have been possible without this grant.
Now, our documentary film, "In Love, In Memory", will be poetically exploring the role that storytelling plays in holding memories and advocating for justice. The documentary film will continue to follow Shalon's story as she advocates for the city to be more invested in the lives of youth and works with Justice to help tell her oldest son's story. We will see this play out against the backdrop of the city of Allentown and how policies and practices (and the lack of) have committed a parallel violence that is simply evolving over time.