On Saturday, June 1st, award-winning author and Distinguished Professor of Creative Writing at UC Riverside, Susan Straight, will be on Moravian College's campus to present her Keynote Address on "Geography of Home and Soul." Her novel, Million Nightingales, was a finalist for the Los Angeles Times Book Prize in 2006 and Highwire Moon was a Finalist for the 2001 National Book Award. Her stories and essays have appeared in O Henry Prize Stories, Best American Short Stories, Best American Essays, The New York Times, The New Yorker, The Los Angeles Times, Granta, Harpers, and elsewhere. Copies of her recent non-fiction works will be available for purchase.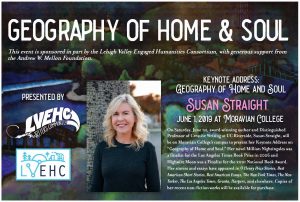 Date: Saturday, June 1st, 2019
Time: 1:00 PM
Location: PPHAC 102, Moravian College, 1200 Main Street, Bethlehem PA 18018
Follow this event on Facebook and keep up to date with the LVEHC's Facebook Page.