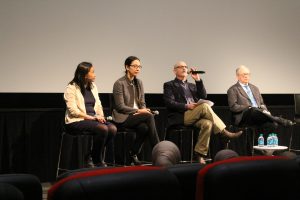 On Monday, March 26th, the ArtsQuest Center at SteelStacks hosted an advance screening of "The Chinese Exclusion Act," a film by Ric Burns and Li-Shin Yu, as well as a talk-back with a panel of history professors. The panel included Dr. John K. Smith from Lehigh University, Dr. Beth Lew-Williams from Princeton University, and Dr. Mary Lui, from Yale University, and was moderated by Moravian College faculty member Dr. Joel Nathan Rosen.
The film focuses on the stories of Chinese immigrants and Chinese-Americans during a 60+ year period of American history governed by the "Chinese Exclusion Act," a piece of legislation which barred a group of individuals based on their race and nationality. In addition to exploring the historical origins and evolution of the Chinese Exclusion Act, the film drew connections to ongoing legislation in the contemporary moment, the power of community action, the differing natures of work and their impact on immigration and stereotypes, and the evolution of US immigration law and American identity. The talk-back included discussion of the power of storytelling, how these stories resonate with current immigration legislation and the plight of DACA recipients in the Lehigh Valley today, pervasive stereotypes and cyclical oppression, and generational memory.The event was co-sponsored by three local colleges (Lehigh University, Moravian College, and Muhlenberg College) with students from all three institutions in attendance. Approximately 150 community members attended to learn about the history and relevance of the Chinese Exclusion Act and the central role that storytelling plays in the immigrant experience.
This event contributes to the larger community focus on immigration and diversity in the Lehigh Valley, anticipating next year's exhibition "Destination Northampton County" at the Sigal Museum in Easton, also co-sponsored by the LVEHC. "Destination Northampton County" will explore the lives and stories of local immigrant and minority communities in the Lehigh Valley. For more information on "Destination Northampton County," follow the Sigal Museum for updates; for more information on the Chinese Exclusion Act, view the film's website for screening times and additional information.