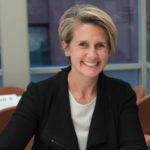 Bethany Godsoe
Bethany Godsoe is the Associate Vice President for Student Leadership Initiatives at New York University. She came to this role after serving for six years as the Executive Director at NYU Wagner's Research Center for Leadership in Action. She specializes in the design and delivery of leadership development programs and is a highly skilled facilitator with deep expertise in action learning and collaborative action research methodologies. She is passionate about helping people develop their capacity for leadership and realize their vision for change in the world. Previously, Bethany served as NYU Wagner's Assistant Dean for Enrollment and Student Services and Director of Admissions from 2003 to 2007. Prior to joining the NYU Wagner administration, she served as Associate Project Director for the Research and Documentation component of Leadership for a Changing World, a national effort to build knowledge about social change leadership. She began her career in HIV services developing and managing youth programs and serving as a director of development. Bethany is Adjunct Assistant Professor of Public Administration at NYU Wagner where she teaches Strategic Leadership to the Executive MPA students and The Meaning of Leadership for undergraduates. She received her BA in Anthropology from Cornell University and her MPA from NYU Wagner.
Gordon Loeb, Loeb Consulting Group (LCG)
Gordon Loeb is the COO of Loeb Consulting Group (LCG), a leadership and management development company. His responsibilities include business development, marketing, financials, and client and consultant relations. Gordon helped grow LCG from a single independent consultancy to a thriving company with over 25 consultants that provides training and development, executive coaching, public workshops and student leadership development programs. Gordon has an extensive entrepreneurial and corporate background including starting and growing two successful companies and running a division of Automatic Data Processing (ADP). Gordon is the proud co-founder of a teen advisory committee in Marlboro, NJ — an organization that helps teens develop leadership skills through community service projects. The organization has over 1,500 local teen members and is the recipient of a 2015 New Jersey State Governor's Jefferson Award.
Kristan Skendall, Ph.D
Dr. Cilente-Skendall serves as Associate Director of the Gemstone Honors Program in the Honors College at the University of Maryland, where she teaches GEMS102 and co-teaches GEMS202. She works closely with the research teams, faculty mentors, and librarians. Dr. Skendall received her B.A. degree in Sociology and History from the College of William & Mary (VA), her M.A. degree in Higher Education Administration from the University of Arizona, and her Ph.D. in College Student Personnel at the University of Maryland. Dr. Skendall previously served as the Assistant Director for Orientation and Leadership Programs at Georgetown University and Senior Coordinator for Community Service-Learning at the University of Maryland, where she oversaw the development of the Alternative Breaks program on campus from 2005-2008. Additionally, Dr. Skendall has worked with the National Clearinghouse for Leadership Programs, ACPA-College Student Educators International, and the U.S. Department of Education with the Committee on Measures of Student Success. Dr. Skendall's research focus is primarily related to college student leadership and service-learning. Her dissertation, Socially Responsible Leadership: the Role of Participation in Short-term Service Immersion Programs, connected leadership outcomes with short-term service immersion programs and service-learning participation in general. Additionally, Dr. Skendall has published several articles and book chapters related to student leadership, alternative spring break, multiple identity development, and new professionals needs. Dr. Skendall has taught graduate-level courses on research methods, leadership, and student development in addition to undergraduate leadership courses and Gemstone courses.
Lauren Miltenberger, Ph.D
Dr. Miltenberger is an Assistant Professor and the Nonprofit Coordinator in the Department of Public Administration at Villanova University. Dr. Miltenberger teaches courses in Public & Nonprofit Human Resources, Decision Making, Public Policy and Public Administration. Her research has been published in the Journal of Nonprofit Education & Leadership, the Journal of Leadership Studies and the Journal of Education Finance. Lauren also writes on current nonprofit events and the integration of theory and practice for The Nonprofit Quarterly. Prior to joining the faculty at Villanova University, Dr. Miltenberger held executive leadership positions in the nonprofit sector.
Ramsey Jabaji
Ramsey Jabaji is an Assistant Director in the Office of International & Leadership Programs of the A. James Clark School of Engineering at the University of Maryland. Ramsey advises all engineering students wishing to study abroad on one of the 40+ engineering programs. He has been at the University of Maryland since 2005. Ramsey also directs short-term programs each summer and winter which have included locations such as Qatar, the United Arab Emirates, France, Spain, and China. He graduated from Franklin & Marshall College with a double-degree in Sociology and Environmental Studies and a master's degree in Counseling & Personnel Services from the University of Maryland. He is a doctoral student in Counseling, Higher Education, and Special Education at University of Maryland.