This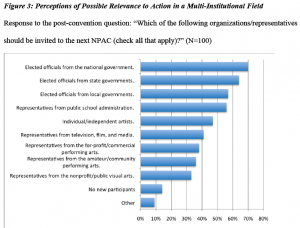 project emerged out of a collaborative research initiative commissioned by national performing arts service organizations to study their attempt to galvanize 3,700 performing arts leaders representing 1,800 organizations around a collective action agenda at a national conference.  My collaborators, Elizabeth Long Lingo of the Curb Center at Vanderbilt and Andrew Taylor, Director of the Bolz Center for Arts Administration at the University of Wisconsin, brought me aboard because of my experience studying public engagement facilitation. The multi-method research design included pre- and post-convention surveys of a random sample of participants, in-depth observations at the conference by a thirteen-member field research team of professors and graduate students, and interviews with performing arts leaders. A public report on the findings of the research team is available here.
Following the conclusion of the research project, I have collaborated with Elizabeth Long Lingo on analyzing our results for social movement scholars and sociologists of culture. New scholarship on movements focuses on the role of art in mobilization and, relatedly, documents a shift toward a model of politics in which culture is central and constitutive. Nevertheless, researchers seldom combine the study of the changing politics of mobilization with the study of contemporary uses of art in movements. We bridge this gap by analyzing lay actors' disagreements about the value of art and cultural change, and the resultant effect of these emerging tensions on collective action efforts. We conclude that lay perceptions of the value of art in collective action may not reflect the more expansive conceptions held by contemporary activists, even when those laypersons are engaged in non-traditional forms of mobilization and are passionately devoted to the arts. As a case in which beliefs about art inhibited action, these findings reveal obstacles to the contemporary uses of art in movements. For scholars of culture and contention, our findings underscore how ideas about the power of symbolic expression may themselves produce quiescence.
Related Publications:
Lee, Caroline W. 2016. "The Arts and Crafts of Participatory Reforms: How Can Socially Engaged Art and Public Deliberation Inform Each Other?" Field 3(Spring).
Lee, Caroline W., and Elizabeth Long Lingo. 2011. "The 'Got Art?' Paradox: Questioning the Value of Art in Collective Action." Poetics 39(4): 316-335.
Lingo, Elizabeth Long, and Andrew Taylor, with Caroline Lee. 2008. "National Performing Arts Convention 2008: Assessing the Capacity of the Field for Collective Action: Report of the 2008 I-DOC Team." Curb Center for Art, Enterprise, and Public Policy.