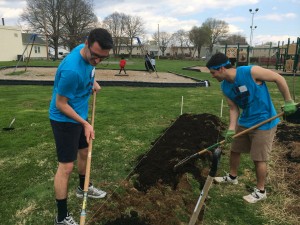 This past Saturday the Brothers of the Rho chapter of Delta Kappa Epsilon participated in Lafayette's National Day of Service known as Lafapalooza through the Landis Community Outreach Center.  The brotherhood was stationed at the Easton Urban Farm in downtown Easton, PA to help prepare for the new growing season.
The farm's harvests are donated yearly to Easton Area Neighborhood Center's food bank and senior citizen housing centers.

The brothers spent the day weeding, mulching, and preparing new tomato beds for the farm. The day's efforts were an excellent opportunity to reach out to the community and offer a helping hand to an organization that benefits hundreds of people in Easton.
We would like to thank everyone at Landis and the Easton Urban Farm for allowing us access to the farm to provide service for the community. We would also like to thank Director of Service and Philanthropy Brother Sam Todd '15 for coordinating DKE's involvement in the event.