This past Tuesday five brothers from the Rho chapter of Delta Kappa Epsilon presented their yearly Accreditation Presentation in Oeschle 224 at Lafayette College.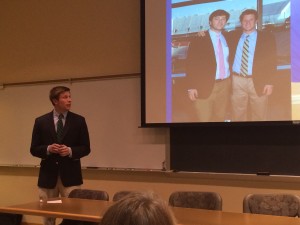 As former and current executive position holders in the fraternity, Brothers Michael Kelley '14, Billy Leonard '14, Brett Lederer '15, Wiley Houldin '15, and Kevin Fasano '15 were responsible for presenting the Powerpoint to various school administrators and students.
As academics remain the first priority for the fraternity today, Treasurer Kevin Fasano spoke about the chapter's mandatory study halls for brothers struggling academically under the supervision of faculty advisor Professor Richard Shupp. By implementing these study hours, we hope to foster better study habits that will translate to better results in the classroom in the coming semesters.
The presentation highlighted brothers' involvement and leadership in activities around campus including but not limited to varsity tennis, swimming, and soccer, staff writers and editors for "The Lafayette," Tau Beta Pi, Alumni Relations Council, Common Sense Action, and Lafayette College Ambassador Program.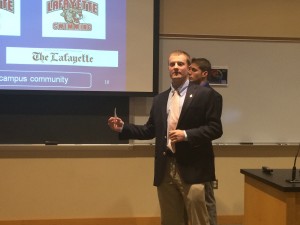 Also discussed were the chapter's service and philanthropy events, including this year's Jeremy Saxe Memorial Basketball Tournament and days spent working at the Lafayette Farm as part of our attempt to have a stronger community influence.
All in all, the presentation was an amazing opportunity to highlight all the amazing things we do on and off campus to school administrators and our fellow students. We would like to thank Grace Reynolds (Director of Residence Life), Paul McLaughlin (Dean of Students), Annette Diorio (Vice President for Campus Life), Connor Heinlein (President of Student Government), and Ryan Monahan (VP of Student Government) for providing us the opportunity to speak and for taking the time to listen to the progress we have made as a chapter.