ΔKE is the oldest secret college fraternity of New England origin. It was founded at Yale College (present-day Yale University) in 1844 by 15 men of the sophomore class who, upon hearing that some but not all of them had been invited to join the two existing societies, instead chose to form their own fraternity. Over time the fraternity has accumulated chapters throughout the United States and Canada, making DKE the international fraternity it is today.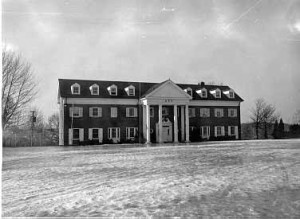 Current DKE Rho House, 1962
Rho Chapter, our chapter here at Lafayette, was founded on October 15th, 1855 in 25 South College by ten Lafayette undergraduates. We are the oldest surviving fraternity at Lafayette College. Above, the current DKE house is shown, which was renovated in 2014 to what is shown on the homepage.
Besides being a social house in which brothers bond and grow together, the Rho Chapter of Delta Kappa Epsilon prides itself with the philanthropy and service projects it takes on. Be it the Memorial Basketball Tournament held each year in honor of Brother Jeremy Saxe (see here) or a delegation to a local Relay for Life event, Dekes at Lafayette enjoy helping the local community. Our current Director of Service and Philanthropy, Brother McDermott, organized a brilliant schedule of events last semester, and he will no-doubt pull through once again! Keep an eye on the News Blog to see what DKE service events might soon be happening at Lafayette.