The members of the McKelvy Scholars Program are sophomores, juniors, and seniors at Lafayette College. Explore this section of our site to see what our members are passionate about, and how they feel about being a part of our community.
Faculty Adviser: Rachel Goshgarian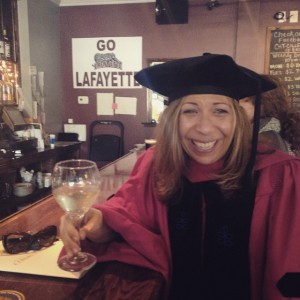 Rachel Goshgarian is Assistant Professor of History at Lafayette College. At Lafayette, she teaches a range of history courses related to the Middle East, including a course on the Crusades and a course on mutual (mis)perceptions between the "West" and the Middle East. She has been McKelvy faculty advisor since Fall 2013 and is a strong proponent of the philosophy behind living learning communities. Goshgarian won the Student Government Teaching Award for the Humanities and Social Sciences in Spring 2014. Before coming to Lafayette, she was a Senior Research Scholar at Koc University's Research Center for Anatolian Civilizations in Istanbul, Director of the Krikor and Clara Zohrab Information Center in New York City and Ordjanian Visiting Professor of Armenian Studies at Columbia University. She completed her PhD in History and Middle Eastern Studies at Harvard University in 2008 and is an alumna of Wellesley College. She is currently completing her first major manuscript: A Futuwwa for the Borderlands: Homosociality, Inter-faith Interactions and Urban Self-Governance in Late Medieval Anatolia as well as her first co-edited volume: Architecture and Landscape in Late Medieval Anatolia (with Patricia Blessing, Stanford University). Her work has been published by the British Journal of Middle Eastern Studies, I.B. Tauris, Princeton University and Routledge. Goshgarian is a recipient of both the Fulbright and Fulbright-Hays grant. She is also co-author of the first Armenian grammar published in Turkey in over 100 years, Kendi Kendine Ermenice, with Sukru Ilicak (Istanbul: Armenian Patriarchate, 2006). Goshgarian was born and raised in the suburbs of Chicago and is a die-hard White Sox fan. But she still catches an Iron Pigs game every once in a while. Other favorite local hangouts include: Skillman Library, Maxims 22, the beautiful McKelvy gardens and her apartment. If you can't find her in Easton, she is most likely in Chicago, NYC, Boston, Yerevan, Istanbul, Venice or Barcelona.
Want some background on our student members? Check out each student's bio here: