Have a three-page essay due tomorrow that you haven't started? Is your rough draft is looking really rough but you can't seem to crawl out of that YouTube hole? Do you have this amazing creative idea that you just cannot find the motivation to put onto paper (umm, screen)? We've been there. And we've found this great website that might help you like it helped us.
Fighter's Block
is a website that turns writing into a video game. When you first get to the URL, you see this character select screen.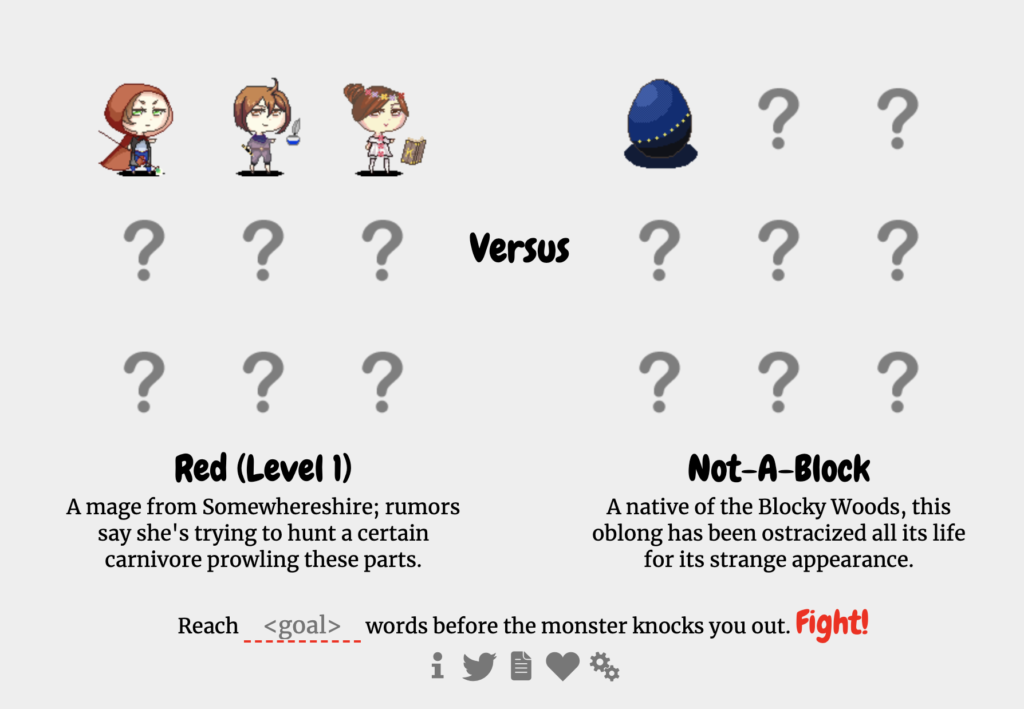 Complete with unlock-able players and monsters. The lore is funny and cute, but most important is the final line, where you put in the word count. The website writes in a continuous page, so you can't really measure page length. For those who don't write by word count that often, one page is 250 words double spaced, 500 single-spaced. Meaning that a three-page paper is 750 words double spaced. Type it in, hit fight, and prepare for the boss battle.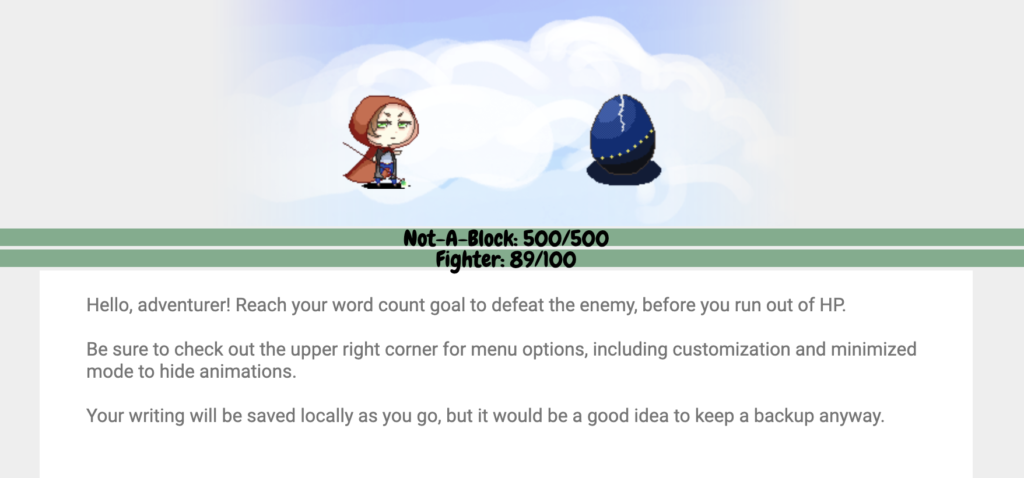 Once you hit fight, your HP (for non-gamers, think of it as a health bar, you really don't want it to run out) begins to drop (in the time it took me to screenshot the page, I dropped to 89). The white box is where you type. Every keystroke, including backspacing, boosts your HP, but only increasing your word count damages your opponent. You can pause, which is useful (not to procrastinate more) if you need to switch tabs to read over your sources, or move locations to go to class or to the library or to your room. Use it sparingly. You can copy and paste into the text box and out of it, so quotes and other passages can be put right in and those words get counted immediately.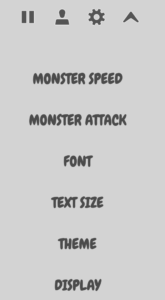 This is what the menu looks like, with you being able to change the monster attack speeds, strength, font, text size, etc.  Everything can be specified to your preferences to make for an ideal writing environment, which may mean a more stressful one.  At the end, once you've hit the word count, you can copy the whole thing and put it right into a word doc. If you accidentally close the tab, it does save locally, and when you return to the website, your work will be on it if you are using the same device. But you cannot export it, so save it separately.
And the website is genuinely adorable. They really made it fun because writer's block is not. We highly recommend it for any type of long-form you need help muscling through (poetry is a little hard to set a word count on…). 
Let us know what you think about the website in the comments below.  List some techniques or websites you use to get over writer's block and procrastination, and we might just make it into a later post.