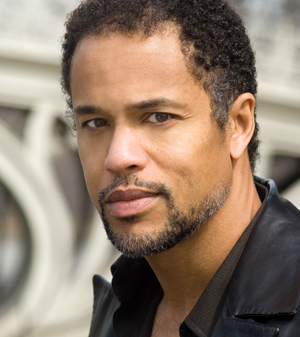 Keith Hamilton Cobb is an actor, an NYU Tisch School of the Arts graduate, BFA in acting. He has performed throughout the country at venues such as The Actors Theatre of Louisville, The Shakespeare Theatre of Washington DC, The Denver Theatre Center, The Huntington Theatre Company, The Orlando Shakespeare Festival, The Geva Theatre Center, Pennsylvania Shakespeare Festival, enacting the roles of Laertes in Hamlet, Tybalt in Romeo and Juliet, Tullus Aufidius in Coriolanus, Oberon and Theseus in A Midsummer Night's Dream, Caesar in Julius Caesar.
He created for television the roles of Noah Keefer for ABC's All My Children; the role of galactic mercenary Tyr Anasazi for Gene Rodenberry's Andromeda; the role of Damon Porter for CBS's The Young and the Restless; and the role of Quincy Abrams for the series, Noah's Arc on the Logo network.
In 2013, Keith wrote American Moor, a solo play that explores the perspective of the African American male through the metaphor of Shakespeare's character, Othello. It had its first public performance at Westchester Community College as a presentation of the WCC Humanities Institute with funding from the NEH. It was the keynote performance, opening and closing the 2016 Kennedy Center American College Theatre Festival in Denver, CO.
The Phoenix Theatre Ensemble production in New York garnered the Outstanding Solo Performance honor at the 2015 AUDELCO Awards, which honors excellence in Black theater. The 2015 Anacostia Playhouse production resulted in American Moor being taken into the collection of the Folger Shakespeare Library in Washington, DC.