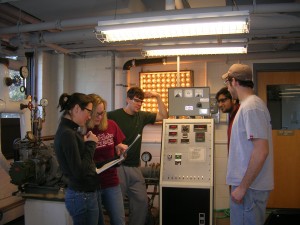 Thermal/Fluids Systems (ME 475) is a required course for second-semester seniors.  In this course, students perform experiments related to what they have learned in four previous courses: Thermodynamics I and II; Fluid Mechanics; and Heat Transfer.  In ME 475, students must recall the relevant theory from these previous classes, and apply it to the analysis of real-world systems.  In many cases, their experiments and analyses expose limitations of the theories students have learned previously.
I have been actively refining this course, from its equipment and instrumentation to the syllabus and laboratory assignments, to the instruction and assessment of student communication skills, since 2005. Students in the course, in consultation with me, now design their own experimental protocol and analysis procedure to achieve specified deliverables. Experimental equipment includes a steam turbine generator; spark ignition and veggie-diesel engines; a gas turbine engine; heat exchangers; and two subsonic wind tunnels. The course continues to evolve.
After learning to use the wind tunnel, and validating its result for well-known objects of aeryodnamic interest, students design objects of aerodynamic interest to them — they create CAD models for these objects, and we rapid prototype them for testing. This is one example of the way this class allows students to "put it all together" in a capstone thermo-fluids experience, and it is an absolute joy.