We want to give you an idea of what to expect as a member of POSP. Below is an abbreviated version of our schedule from last year.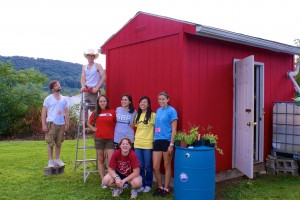 Sunday
9:00 Move-In Starts
1:30 Welcome Luncheon
3:30 Introduction to Service
6:00 Pizza on the Quad
7:00 Camp Training
Monday-Thursday
7:45 Breakfast
9:00-3:30 Service Programs
4:00-5:00 Free Time
5:00-6:00 Reflection Groups*
6:00 Dinner and Evening Activities
Evening Activities
Monday: Movie and a Special Group Activity
Tuesday: Community Dinner and theme activity
Wednesday: POSP Family Dinner
Thursday: Scavenger Hunt in Downtown Easton, Ice Cream, & ISA Social
*Note: Reflections occurs daily to allow participants to make connections between service and our role in the community.