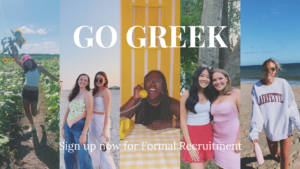 Click the Image Above to Register for Fall Formal Recruitment!
Are you looking to get more involved and engaged in the Lafayette College community? Do you want more leadership development and civic engagement, more connections with fellow students?
Membership in a sorority gives you the opportunity to meet more people on campus, take on new and different leadership positions, learn financial responsibility, communication skills, develop conflict negotiation skills, have networking opportunities, expand your social network, find a service outlet, and much more all in a safe and fun environment!
Formal Membership Recruitment Week
Lafayette College's 5 women's fraternities and sororities will be recruiting new members in the Fall of 2021. Participation in recruitment does not require you to join a sorority but gives you the opportunity to explore our 5 chapters and decide for yourself if sorority life can offer something for you. Please remember that you are required to have a minimum cumulative GPA of 2.6 or higher. Please note that some organizations require a higher GPA in order to be extended a bid. In addition, you cannot be on Disciplinary Probation Level 1 or higher with the College. Those who do not meet the GPA requirement or match college disciplinary standings have the opportunity to appeal their status and have a discussion with the Panhellenic Council.
Formal Membership Recruitment Breakdown
Sunday 8/29 – Mandatory PNM orientation at 8:00 pm in Colton Chapel. PNMs will receive a preparatory presentation from the Panhellenic council on what to expect during recruitment.
Monday 8/30 to Wednesday 9/1 – No events.
Thursday 9/2 – Friendship Night: All PNMs will attend a party at each house. The parties will run from 6 pm to 10 pm with a 15-minute break in between each house.
Friday 9/3 – Philanthropy Night: All PNMs will attend a maximum of four parties. The parties will run from 6 pm to 10 pm with a 15-minute break in between each party. In this round, it is normal for PNMs to be invited back to less than four houses and they should be excited to get to know the house(s) they are invited back to better.
Saturday 9/4 – Preference Night: All PNMs attend one or two parties.
Sunday 9/5 – Bid Day: PNMs receiving bids report to Pardee at 10:00 am!
Useful Documents
Four Pillars: Learn about how each chapter at Lafayette embodies the four pillars of The Sorority Life– Leadership, Scholarship, Friendship, and Service
Greek Guide – Learn more about each chapter at Lafayette, the 2018 Recruitment Schedule, and tips for the recruitment process
Appeal Documents
GPA too low? on probation? Interested in appealing to Panhellenic Council to talk about options? Click here to download Appeal forms: Appeal Form
Here you can find a list of possible questions you should ask to get a better feel of what The Sorority Life is like!
Questions?
Our VP Recruitment, Meghan Gillis, would be more than happy to assist you with any questions or concerns you may have about Panhellenic Recruitment. You can contact her at gillismf@lafayette.edu
We look forward to meeting you!