Digital content from the LVEHC is available to Lehigh Valley faculty for use in remotely taught courses through Spring semester 2020. Lehigh Valley faculty (including contingent faculty and K-12 educators) who incorporate LVEHC-sponsored digital content into their coursework are eligible for a $375 course enhancement stipend. To access digital content and request a stipend, please fill out the form by clicking the button below.
Descriptions of available digital content are listed below.
The LVEHC Digital Archive includes the following contents:
Oral History Collections
Primary Source Collections
Interpretive Exhibits

Ethnic-American Literature Class Exhibit

This exhibit was created by undergraduates in Dr. Andrew Uzendoski's Fall 2018 Ethnic-American Literature course at Lafayette College. Student contributors to the exhibit put archival artifacts from the Easton NAACP-Sigal Museum Collaboration Collection into conversation with course texts in order to explore topics such as gender and culture, ethnic identity, privilege, and intersectionality. 

Documentary Photography Class Exhibit

This exhibit of handmade artist books was created in Fall 2018 as part of the Lafayette College Documentary Photography course instructed by Greta Bergstresser. The undergraduates in the course created projects with the intention of shedding light on different places and people in the Lehigh Valley. 

Environmental Studies Class Exhibit Rust to Green

This exhibit was created by students in Dr. Andrea Armstrong's Spring 2019 Environmental Studies course at Lafayette College. The creative nonfiction essays and accompanying photographs reflect on change over time in the landscape of the Lehigh Valley, and explore the dynamics between the people and the environment in the region today.
---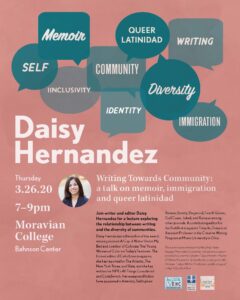 "Writing Towards Community: a talk on memoir, immigration and queer latinidad"
Writer and editor Daisy Hernandez explores the relationship between writing and the diversity of communities. Daisy Hernandez is the author of the award-winning memoir A Cup of Water Under My Bed and co-editor of Colonize This! Young Women of Color on Today's Feminism. The former editor of ColorLines magazine, she has reported for The Atlantic, The New York Times, and Slate, and she has written for NPR's All Things Considered and CodeSwitch. Daisy is an Assistant Professor in the Creative Writing Program at Miami University in Ohio.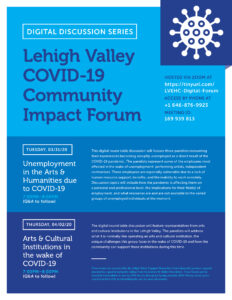 LVEHC DIGITAL DISCUSSION SERIES
"Unemployment in the Arts & Humanities due to COVID-19"
This digital round table discussion will feature three performing artists / servers recounting their experiences become abruptly unemployed as a direct result of the COVID-19 pandemic. Discussion topics will include how the pandemic is affecting them on a personal and professional level, the implications for their field(s) of employment and other topics.
"Arts & Cultural Institutions in the wake of COVID-19"
The digital round table discussion will feature representatives from arts and cultural institutions in the Lehigh Valley. The panelists will address what it is normally like operating an arts and cultural institution, the unique challenges this group faces in the wake of COVID-19 and how the community can support these institutions during this time.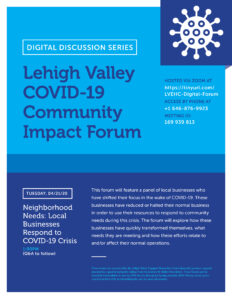 "Neighborhood Needs: Local Businesses Respond to COVID-19 Crisis"
This forum will feature a panel of local businesses who have shifted their focus in the wake of COVID-19. These businesses have reduced or halted their normal business in order to use their resources to respond to community needs during this crisis. The forum will explore how these businesses have quickly transformed themselves, what needs they are meeting and how these efforts relate to and/or affect their normal operations.