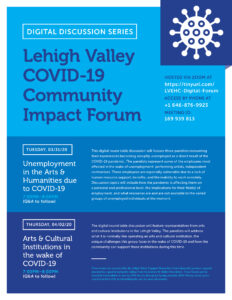 Join us next week on Tuesday (03/31) and Thursday (04/02) at 7:00pm to hear how COVID-19 has impacted different parts of the local art & culture communities.
https://tinyurl.com/LVEHC-Digital-Forum
Each forum will feature a round table discussion and time for Q&A. Recordings of these digital forums will be available for LVAIC faculty use through Spring semester 2020.
Any questions, please email pittsk@lafayette.edu