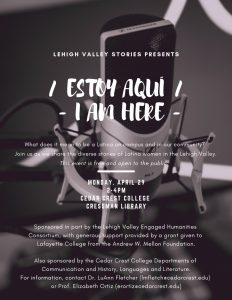 Date: April 29th, 2019
Time: 2-4pm
Location: Cressman Library, Cedar Crest College,100 College Dr, Allentown, PA 18104
An exhibition featuring the video documentaries and audio podcasts created by the students of Dr. Elizabeth Ortiz and Dr. LuAnn Fletcher's co-taught course on Allentown's Latina communities. This course was sponsored through a Course Development grant from the LVEHC Mellon Grant.  The exhibition and reception are open to the community and free of charge.