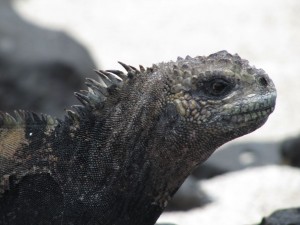 This course will examine the coupled natural history of earth and life over geological time scales in the Andes of Ecuador and on the Galapagos Islands. We will focus on the origin of oceanic crust and hotspot island archipelagos, the development of continental mountain ranges, and the relationship of geological processes to biogeography and biological evolution.
Lafayette
Four required meetings during the Fall semester
Jan 1st & 2nd
Class preparation at Lafayette, late night flight via Panama City
On to Ecuador
Jan 3rd
arrive Quito mid-day, late afternoon exam on pre-departure material
Jan 4th
Quito and surroundings, acclimatization
Jan 5th
Quito area: deformed rocks then over Cordillera Real to Papallacta and on to Termas de Papallacta;
Paramo Ecology, Alpine Weather, Glaciation, Geomorphology
Jan 6th
To Tampopaxi; Geothermal Activity, Tectonics, Geological Hazards; evening lecture and reading discussion
Jan 7th
Cotopaxi volcano; tephra, lava flows and glaciers
Volcanism, Glaciation, Geomorphology
Jan 8th
To: Salcedo; volcanism, lahars; Cotopaxi field geology; evening lecture
Jan 9th
To Banos; Chimborazo and Tunguragua volcanos; Chimborazo high altitude hike
Volcanism, Alpine Ecology, glaciology
Jan 10th
Around Banos then on to Lloa
Metamorphic geology, Lava flows, Volcanism,
Jan 11th
Return to Quito, but on the way detour west of Quito up Cordillera Occidental onto Guagua Pichincha volcano
Volcanism, Andean Culture, Sedimentology, Glaciology
Jan 12th
Quito: Study and Exam day
Galapagos Islands
Jan 13th
From Quito to San Cristobal, Galapagos
Hotspot Volcanism, Exploration/Habitation History of the Galapagos, evening: mid-course exam
Jan 14th
On/near San Cristobal Island;
Hot Spot Volcanism; Exploration/Habitation history of the Galapagos
El Junco and Galapaguera, afternoon snorkeling
Biogeography, Island Ecology
Jan 15th
On/near San Cristobal: snorkeling Isla Lobos & Kicker Rock; evening lecture and prep for Island Hopping
Jan 16th
San Cristobal to Floreana to Isabela; Exploration/Habitation History, Marine Ecology, Sedimentology, Tephra
Snorkel/hike on Floreana
Jan 17th
On/near Isabella; hotspot volcanology; Ride and hike: Sierra Negra and Volcan Chico
Jan 18th
On/near Isabela; Island and Marine Ecology, Roca Union ornitology; snorkel Tintoreras
Jan 19th
Isabela to Santa Cruz; conservation and ecotourism; Charles Darwin research station; review session in the pm.
Jan 20th
Fly from Baltra/Santa Cruz to Quito; study time all day then
EXAM in the afternoon; group dinner
Jan 21st
Quito to Newark and back to Easton