During the period of Japanese colonial rule in Taiwan (1895-1945), thousands of photographs reached mass audiences via picture postcards.  Seventy years later, many of these same images have enjoyed a revival, even though the empire has long since vanished.  In this essay, I trace the history of one particular photograph: a group portrait of Saigo Judo (Tsugumichi), a handful of Japanese comrades, and his Paiwan allies in the Hengchun peninsula.  This is one of the few surviving photographs of the Japanese military expedition to Taiwan in 1874. I begin with two fairly recent Taiwanese book covers that utilize an 1874 photograph that formed the basis for a widely disseminated 1908 postcard: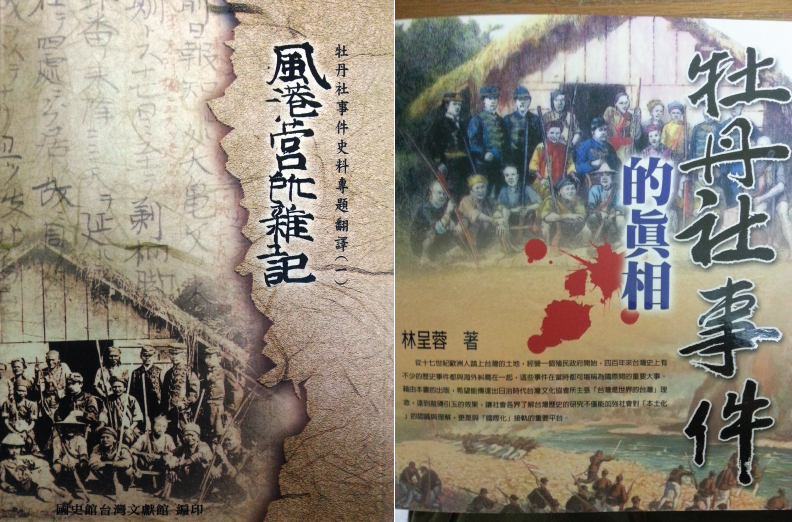 The title on the left, 風 港營所雜記: 牡丹社事件史料専頭翻譯 (Miscellany from Fenggang Camp: A Specialist Edition of Translated Historical Materials on the Mudan Incident) [1], is about as technical and narrowly targeted as a book can be.  Except for the cover, there are no illustrations in this book, which was published by the Taiwan National Archives (Taiwan Historica) in 2003.  To the right is a very different kind of publication: a colorful picture-packed general-audience book titled 牡丹社事件的真相 (The Truth about the Mudan Incident).[2]
At first glance, it is easy to miss the resemblance between the two cover illustrations.  One is a black-and-white photograph, and the other is a color drawing.  Moreover, they are reverse images of each other.  We can see from the cropped versions below, however, that the same scene is being quoted on both covers: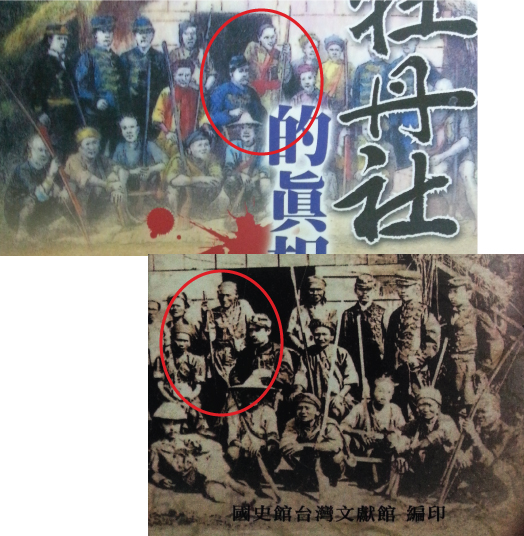 But which reproduction is "backwards"? Was Saigo Tsugumichi, the seated man in the center (circled in red) with the cap, looking to the right (from the cameraman's perspective), or was he looking towards the left?  I'm not sure.  It seems that there are two lines of descent–from an 1874 photo and an 1875 etching–that have produced two separate genealogies of serial reproduction, both originating from a glass-plate negative that appears lost to the ravages of time.