The 14th EAJS Conference was held at the University of Ljubljana and hosted by the Department of Asian and African Studies, Faculty of Arts (Filozofska Fakulteta) 27-31 August, 2014.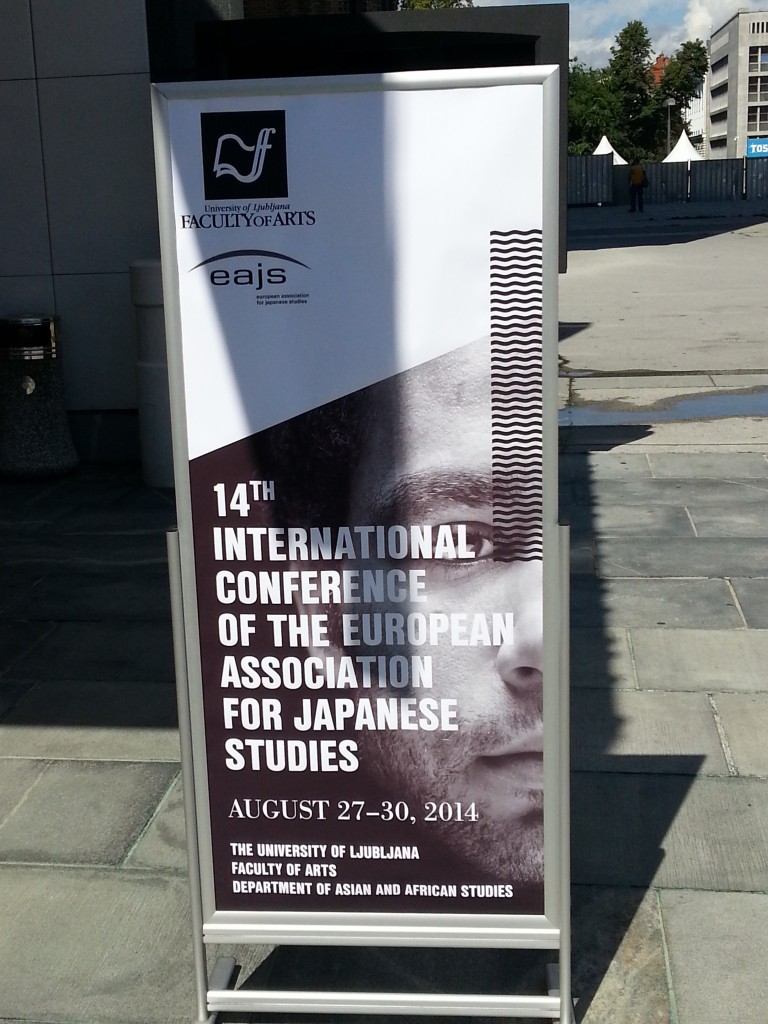 Here are the abstracts of papers and panels dedicated to new research in the study of Imperial Japanese visual culture, accompanied by illustrations and appropriate links.
There were a surprising number of such panels and papers at this conference. If your paper abstract is posted on this blog, and you would like to add pictures, links, or texts–or even upload a paper to this post–please email me at: barclayp@lafayette.edu and I will add material.  (If you would like your abstract and name removed from this post, or course I will do that if you wish).
I. Picture Postcards as Important Media for the Study of Japan I – Imagi(ni)ng History
Illustration from "Asia Rising" unit of MIT Visualizing Cultures, (
Leonard A. Lauder Collection of Japanese Postcards at the Museum of Fine Arts, Boston 2002.1581)
Panel participants
Sybil A. THORNTON (Arizona State University, USA)
Mijeoung PARK (International Research Centre for Japanese Studies, Japan)
Susanne FORMANEK (University of Vienna, Austria)
Chikako SHIGEMORI BUČAR (University of Ljubljana, Slovenia)
Panel Abstract: Formerly, reproductions of picture postcards were occasionally included in Japanese history publications in order to illustrate socio-geographical or architectonical conditions at a given time and place. With the visual or iconic turn and the concurrent re-evaluation of pictorial materials from the 1990s onwards, however, picture postcards, too, started to no longer being used merely for illustrative purposes, but became objects of study themselves.
Japanese postcards, in particular, underwent a major re-evaluation when Leonard A. Lauder bequeathed the Museum of Fine Arts in Boston his 24.000 pieces collection. This bequest became the starting point of the web-based project 'Visualizing Cultures,' many units of which are devoted to the analysis of picture postcards. In addition, the MFA showed a representative part of the Lauder collection in a 2004 exhibition which also went to Japan where it became a sensation. The event greatly enhanced public awareness of the value of collecting postcards, with increasing numbers of museums eager to secure existing individuals' collections for their own holdings. Many Japanese publications on Japanese picture postcards followed.
From these newly accessible materials it can be gathered that from the last decade of the 19th century until at least the end of WWII, picture postcards in Japan – as elsewhere in the world – fulfilled an important function as media that not only conveyed news or other kinds of information, but also commented on them both visually and textually in terms appropriate to the specific format, thereby allowing the modern researcher to detect phenomena and ways to deal with them that otherwise might remain overlooked or underestimated.
One major topic to which Japanese picture postcards were devoted is constituted by 'historical subjects,' either in that the postcards visualized (Japanese) history itself or in that they recorded events or conditions felt to be historically important. In this context it is crucial to consider that the agency of the production of such postcards was wide-ranged; they were issued not only by commercial publishers eager to cash in on the public's desire for information, but also by the government or government-related institutions which relied on them as means of propaganda. This panel groups papers that reflect this broad agency and the variety of pictorial/medial 'language' associated with it, the topics ranging from government-sponsored postcards depicting colonial Korea to a set on the life of the Meiji Tennō issued by the Meiji Shrine, and WWI in caricatures produced by a commercial publisher. A fourth paper overviews Japanese picture postcard collections in Slovenia, the variety of their contents, as well as how they relate to the history of Japanese-Slovenian relations.
---
The Visualization of Japanese History – The Life of Emperor Meiji in Postcards
Sybil A. THORNTON (Arizona State University, USA)
East Asia Image Collection, [ip0563] [Meiji Emperor Funeral with Meiji Shrine South Entrance]
Abstract
Although research has previously focused on stage and other moving image media and their representation of the past, the past is also presented in a variety of motionless visual media, including paintings and book illustrations (for etoki and kami-shibai), tableaux (single and sequential), and the modern postcard, which emerged in the late Meiji period. What we can tell from the cards themselves is that the history postcard is usually a reproduction of an existing media image. It is produced in sets or as a part of sets. Sets are produced to be sold as mementoes by shrines, temples, and, occasionally, museums.
This paper will look at a set of postcards on the life of the Meiji emperor produced by the Meiji Shrine in Tokyo, the official mausoleum of the Meiji emperor and his official consort. This paper will review the production of the postcards and then look at the images themselves to assess the treatment of the emperor and the production of meaning through serialization of images and the techniques of Western representational art.
The purpose of the analysis is to trace the development of the postcard visualization of history against the background of traditional narrative and its reconfiguration in modern Western representation. Thus, the paper hopes to offer a preliminary assessment of the postcard's role in the development of a national narrative tradition in the first half or so of the twentieth century.
---
Representations of Colonial Korea – Producing Colonial Knowledge with Audiovisual Materials as 'Texts'
Mijeoung PARK (International Research Centre for Japanese Studies, Japan)
East Asia Image Collection, [ip0773] [Ninth Anniversary of the Chosen Government General]
Abstract
By the beginning of the 20th century, over seventy percent of the earth was under colonial rule. Promoting the Industrial Revolution and the notion of 'rich country, strong army,' European and American empires established mail and communication systems. As the great powers developed world's fairs, they mass-produced picture postcards featuring photographs of goods, customs, and peoples from foreign lands (i.e., colonies), and postal systems delivered those colonial images around the world. Japan, as Asia's earliest adopter of Western culture and institutions, mass-produced a variety of audiovisual materials (primarily photographs, picture postcards, drawings, maps, and movies) during the Sino-Japanese and Russo-Japanese wars, and those materials circulated both domestically and overseas. Cameras recorded conditions in Japan's newly acquired Asian colonies, and those images were published in war reportage, picture postcards, lifestyle magazines, and national textbooks. In addition to contributing to war coverage and intelligence gathering, images served as educational materials that taught the Japanese people about their colonies.
This paper addresses the historical context (Sino-Japanese and Russo-Japanese wars) behind the production of picture postcards of colonial Korea, providing an overview of their production and circulation. It continues by analyzing the new image of Korea produced when the postcards were transferred to other visual media. Focusing in particular on the correlation between postcards depicting Korean customs and prize-winning 'images of Korea' in government exhibitions, the paper examines how images produced in picture postcards (i.e., 'texts' on colonial Korea) served as effective advertising for colonial rule as part of Japan's imperial expansion. The paper demonstrates that, while contributing to efforts to gather information about colonies, audiovisual materials also served well as texts that taught the Japanese about their colonies as they learned how to be imperial subjects.
---
Itō Chūta's Picture Postcards Series on WWI – A Caricature Diary of a Modern War in Traditional Iconography
Susanne FORMANEK (University of Vienna, Austria)
Abstract
With modern communication and mailing systems emerging as part of states' struggle for hegemony, one major topic of early picture postcards was the wars fought by these states. In the case of Japan, a first boom of picture postcards was fuelled by the Russo-Japanese war (1904–1905), when the Ministry of Transport and Communication issued series of cards which commemorated major achievements of the Japanese army in the form of photographs surrounded by symbols of victory. With these government-issued cards causing a stir among the public, commercial publishers also started producing postcards that glorified the war. Some of these followed the official example; others took flight into stylistically divergent directions, including the symbolic depiction of the events as traditional Japanese beauties, and caricaturesque treatments. Among these, a series entitled Hyakusen hyakushō, 'A hundred laughs about a hundred selected events,' closely followed the caricature woodblock-print series by Kobayashi Kiyochika in which he, under the homonymous, but differently written title of 'A hundred victories for a hundred fights,' depicted events from the Russo-Japanese war as he had already done for the Sino-Japanese war (1894–95).
WWI similarly saw the production of picture postcards devoted to it. An interesting example is a 500 piece series by Itō Chūta (1867–1954), issued between 1914 and 1919 by the commercial publisher Seiundō. A leading architect of the interwar period who designed, among others, the plans for Meiji Shrine, Chūta also drew picture postcards, mostly of satirical content. The popularity of his series on WWI is attested to by the fact that it was reissued in 1920–21 as a lavish five-volume book entitled Ashura-chō, or 'The Album of the Fighting Titans.' In addition to the sheer number of postcards in the series that turns it into a diary of WWI as it was perceived in Japan, another intriguing aspect is that Chūta drew almost all scenes in the shape of figures borrowed from traditional Japanese iconography, including, as indicated by the book title, but in no way restricted to, Buddhist cosmology. The paper will analyze this peculiar combination of a modern subject and its depiction in traditional 'terms' against the background of Japanese media history.
---
Collections of Picture Postcards in Slovenia
Chikako SHIGEMORI BUČAR (University of Ljubljana, Slovenia)
A 1911 Japanese Postcard from the Regional Museum in Celje, Slovenia (image supplied by Chikako SHIGEMORI BUČAR
Abstract
In our on-going project 'Materials and Resources from East Asia in the Republic of Slovenia', we have recently located some collections of picture postcards from Japan in several institutions:
1. National and University Library in Ljubljana: postcards sent and/or brought back in 1899.
2. Slovenian Academy of Sciences and Arts, Library: postcards sent and/or brought back in 1902.
3. Maritime museum in Piran: postcard collections by seamen and marine officers, i) between 1904 and 1914, ii) 1908/09, and iii) 1912.
4. Regional Museum in Celje: postcards in the collection of Alma Karlin, a female adventurer who stayed in Japan in 1922/23.
These collections present a general picture of public interest for Japan in Slovenia at the very end of the 19th and in the first decades of the 20th century. This was the time when the Slovenian nation underwent some social and political changes. Only a limited number of individuals could visit the Far East, and these postcards were probably a precious source of information to satisfy people's curiosity. The background of some of the collectors are known from their letters, diaries etc.
Most of the postcards were obviously made for foreign visitors in Japan. Popular motifs were: portraits with typical Japanese hairdos and clothes, scenes of traditional dance and kabuki, family life and customs, sceneries of cities and historical sites. These kinds of picture postcards are found also today in almost all countries of the world, likewise for temporary visitors and tourists.
However, we also found some postcards which recorded particular events and occurrences: e.g. the great flood in Kanto area in August 1910, the typhoon and tidal bore in July 1911. Picture postcards functioned as a media to record extraordinary occurrences and to convey such news to people in far places.
II. Picture Postcards as Important Media for the Study of Japan II – Imagi(ni)ng Modernity
Panel participants
Shigeru OIKAWA (Japan's Women University, Japan)
Yulia MIKHAILOVA (Hiroshima City University, Japan)
Sepp LINHART (University of Vienna, Austria)
Beate LÖFFLER (University of Duisburg-Essen, Germany)
Panel abstract
As has been noted by Japanese scholars, one representative characteristic of the so called Taishō culture was that many avant-garde artists such as Kitazawa Rakuten, Kobayashi Kaichi, or Takehisa Yumeji devoted their drawings and paintings to the issue of modernity, either conceptualizing ideal modern life-styles or else criticizing what they saw as the excesses of modernization and/or concurrent Westernization. In addition to newspapers and periodicals, many of their designs were also marketed via the medium of picture postcards. The panel focuses on such images of modernity featured on postcards either in drawings or photographs, starting with a paper on one of the forerunners of the artistic postcard in Japan, Georges Bigot, and his designs of contemporary Japanese life-styles. Two further papers analyze pictures of real and imagined modern womanhood and interpret both their appeal as well as the fears aroused by them within the wider context of an important social discourse on gender and gender relationships. A fourth paper is devoted to the visual means used in postcards in order to craft Tokyo as the urban symbol of Japanese modernity on a par with Western capitals.
The Postcards by Georges Bigot
Shigeru OIKAWA (Japan's Women University, Japan)
Image supplied by Shigeru OIKAWA
Abstract
The French painter and caricaturist Georges Bigot (1860–1927) stayed in Japan for 18 years from 1882 to 1899, and is famous for his albums depicting Japanese everyday life. It has long been considered he retired at the age of 46, a few years after he returned to France and drew illustrations for Parisian journals. But I discovered that he continued his activities as an illustrator for Epinal prints, weekly magazines, menus and postcards. My presentation will discuss his postcards that have been neglected and are even still unknown to many specialists and historians.
We know three different kinds of postcards by Bigot; pictures focusing on the British and French political situations, pictures dealing with the Russo-Japanese war and pictures describing Japanese customs. Contrarily to the first two categories, postcards belonging to the third group have been published on a paper of very poor quality. Yet, all these postcards seem to have been published around 1906, when Bigot and his family moved to Bièvres, a small town in the suburbs of Paris. They are a fascinating object to study because they reflect the historical and political situation of the time, and show how he dealt with them from his unique and humorous point of view. They also give us a glimpse at the history of the postcard itself as a communication media.
My paper will present the main characteristics of the postcards by Bigot both thematically and stylistically and study their treatment of political, historical but also familiar subjects. I hope that this study will give a new light on Bigot's work in the last part of his life, and the many aspects of his activity as a painter.
---
Representation of 'Modern Women' in Japanese Postcards of the Interwar Period
Yulia MIKHAILOVA (Hiroshima City University, Japan)

Bathing Beauty Postcard and Itō Shinsui Painting for 4th Bunten Exhibition, 1910, Image supplied by Yulia MIKHAILOVA
Abstract
In Japan postcards became important means of communication after their production by private companies was allowed in 1900. Russo-Japanese War stimulated their development further. Postcards served not only as correspondence means; they carried information about the progress of modernity and were important in shaping notions of identity through distribution of images of imperial subjects.
This paper concentrates on images of modern girl and sports. During the Taisho and early Showa images of modern girl began contesting images of 'new beauties.' Though European dress, a short cut, cigarette and dancing were most usual markers of modern girls, one other was associated with the healthy body. Japanese female athlete Hitomi Kinue set up 10 world records in the period from 1907 until 1931 and turned into a national icon of sorts. Swimming was no more a leisure only for foreigners. Postcards of models and ordinary women in swimming suits were ubiquitous. Golf became a fashion among high-class women in the 1930s, so that they were represented on Season Greeting cards and those printed for Shiseido. Horse riding and racing were advertised as another activity for women and even aviation and hiking were admitted as their pursuit. Women in those postcards looked very elegant and even gorgeous. This does not mean that 'beauties' of a more traditional type disappeared. A postcard by a famous manga artist Kitawaza Rakuten represented two women – one in a kimono and another on high heels and in a cloche hat – and wittingly asked: 'Who among them is a real Japanese girl?' A painting by Itō Shinsui, also reprinted as a postcard, depicted five women in kimono marching with confidence, as if saying that the world around belongs to them. These were all images of modernity.
---
Saikun Tenka Postcards – Modern Women's Emancipation or Traditional Women's Rule in Japan's 1920s
Sepp LINHART (University of Vienna, Austria)
Images supplied by Sepp LINHART
Abstract
Saikun tenka is homonymous to nyōbō tenka or, more traditionally, kakā tenka, all meaning the rule of the wife over her husband. At the beginning of the 1920s, Japan saw the publication of hundreds of postcards depicting strong women and devoted or even henpecked husbands. It is difficult to find any academic writing about these postcards, which might be partly due to the only recent consideration of such materials as being apt means for academic research. But the fact that these postcards enjoyed such popularity–postcards which could not be sold would probably never have been printed in such variety and quantity–should make us think about them more deeply. It seems justified by their popularity to treat them as important visual sources of the Taishō Era. I started collecting such cards several years ago and tried to find examples of them on the internet. Now I am aware of far more than hundred different cards from many different series. Picture postcards were usually issued as series with a cover envelope, ranging from two postcards to more than ten, with series of two to six cards being most common.
In my paper I will analyze the cards which I know of in terms of their time of appearance, their artists and publishers, the main themes treated, as well as the characteristics of the personages depicted. Are the cards only a modern expression of traditional women's rule as echoed in the phrase kakā tenka or do they indicate a real profound change in the role allocation and power relations between modern urban couples at the beginning of the Twenties? Is this a discourse which took place only on postcards for a few aficionados of picture postcards or was it a popular visual discourse as part of a broader discourse on the relations between the sexes? I will try to suggest some answers as to why these postcards became so popular at a time when probably hardly any such couples as depicted might have existed.
---
Imag(in)ed Modernity – Tokyo (1880–1970)
Beate LÖFFLER (University of Duisburg-Essen, Germany)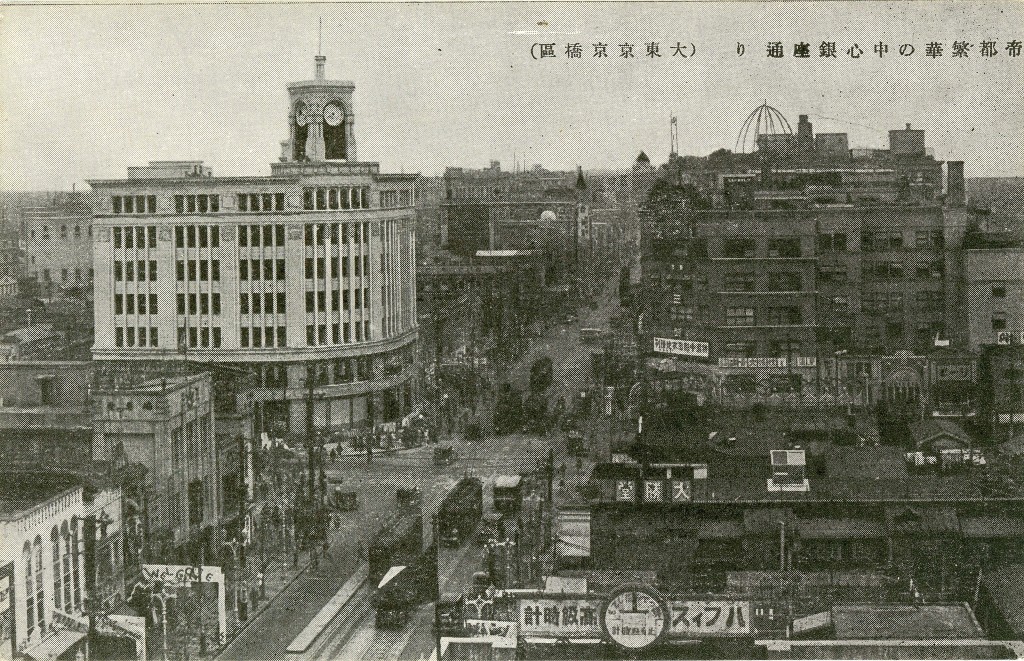 Abstract
As a mass medium picture postcards from Japan as from elsewhere address quite a number of subjects. Alongside beautiful women, lovely landscapes and famous sights they depict the funny and the strange as well as everyday occurrences.
Seen with the eyes of an architectural historian the postcards reproducing Japanese urban environment are the most interesting and constitute a prime source of both architectural development and intercultural discourse. Buildings, open spaces and the social activities within those, means of transportation and trade, materials employed etc. provide valuable cultural and technological information regardless of the specific topic or location. On a second level, however, the places and situations chosen respond to certain contemporary western models of representation regarding both urban space and social behavior. Thus the Japanese picture postcards must be analyzed and understood within the imagery of the global fights for supremacy and prerogative of interpretation against the backdrop of modernization.
The paper is based on wide-ranging field research on the integration of highly symbolic western architecture into the Japanese built environment, and also draws on an on-going project on the modern western perception of Japanese architecture. It sketches the models and references utilized for picture postcards from New York, Paris or Tokyo, focusing on the display of innovation, dynamic and success between about 1880 and 1970. The paper highlights the transformation of architectural ideas and their visual exploitation as part of the Japanese claim for equality as a modern nation state. It demonstrates the complexity of transcultural, global studies of architecture and shows the promise of combined methodological approaches in dealing with this.
III.  Individual Papers
Postcards from Hell – Glimpses of the Great Kantō Earthquake
M. William STEELE (International Christian University, Japan)
East Asia Image Collection, [ip0672] [September 1, 1923 Yokohama Earthquake Commemoration]
Abstract
On September 23, 1923, typhoon, earthquake, tsunami and fire transformed Tokyo and Yokohama into a living hell. Known collectively as the Great Kanto Earthquake, the 1923 disaster had extreme social, political, and economic consequences: around 150 thousand people were killed and reconstruction costs depressed the Japanese economy in the years leading up to the Great Depression. The event has been studied from many angles, including environmental history, urban reconstruction, international aid, scapegoating in crisis situations, and for general insight into the uses of disaster for political, social, and ideological ends.
The imagining and memorializing of the earthquake is the subject of a recent book by Gennifer Weisenfeld (Imagining Disaster: Tokyo and the Visual Culture of Japan's Great Kanto Earthquake, UC Press, 2011). Weisenfeld examines photography, film, and art, but refers only briefly to postcards, an 'alternate source' that offers unique insight into the social history of disasters such as the Great Kanto Earthquake. The extraordinary number of earthquake related postcards, often sold in sets, is well known; indeed the visual record of the disaster is often dependent upon postcard depictions. As social phenomena, however, the postcards are little studied. Who published them and who bought them and why? What subjects were covered? Were they simply souvenirs? What news did they convey? What memories did they record? Using the collection of over 200 earthquake postcards in the archives of the Tokyo Metropolitan Library, this paper will add to earlier studies by suggesting ways in which the postcards are part of a longer tradition of disaster art, including broadsheets and woodblock prints that went beyond the visual record to include political and social comment. In an age before Twitter and Facebook, postcards functioned as a sort of primitive social network, informing us both of what people saw and what people thought at a time of major social and political upheaval.
---
Picture Postcards as a Media in Modern Japan – Focus on the Earthquake Disaster News and the Postcard of Imperial House
Rei HASEGAWA (Gakushuin University, Japan)
East Asia Image Collection, [ip0580] [Crown Prince Hirohito in England 1921]
Abstract
Picture postcard was born in Japan in 1900. A postcard boom covered the Japanese inside. Picture postcard functioned most as the media with breaking news characteristics. The best example is a series of picture postcards about the Great Kanto Earthquake of 1923. A destroyed town and the injured were captured. These subjects not good for picture postcards. It can be said that not for daily necessity. The newspaper publishers were destroyed in Tokyo, the issue of newspaper stops. The picture postcard was utilized most as 'the media' for breaking news. But all of postcards which printed just after earthquake were sleazy. There are many mistakes in caption.
The photographers who entered the stricken area for the purpose of the prompt report were neglected by citizens of suffering. However, the photographs which they photographed became the picture postcard and conveyed the situation of the stricken area. These postcards are vivid, and we can know the conditions of Tokyo after the Great Kanto Earthquake.  On the other hand, the picture postcard had the role to make a record of public holidays and festival days. Particularly, a picture postcard enlivened the celebration mood on the occasion of an auspicious event of the Imperial Family. The particularly notable matter is foreign travel to Europe of the Crown Prince Hirohito in 1921. The Imperial Household Ministry admitted the company of the reporter. So the tendency of Hirohito was broadcasted all over Japan. Beautiful picture postcards of Hirohito in Europe were printed. A sense of closeness for the Imperial Family was roused by natural behavior of Prince Hirohito having become the clear photograph. In addition, it raised authority of the Imperial Family. In this presentation, I focus on the characteristic as the media of the picture postcard.
---
The Use of Images in Constructing Taiwanese Aborigines' Identity through the Representation of Body UnderJapanese Colonial Rule (1895–1945) – From Illustration to Photography
LEE Ju-Ling (Université de Lyon, France)
East Asia Image Collection, [ip0413] [Paiwan Indigenous People of Taiwan]
Abstract
Along with the Japanese Empire's expansion in East Asia from the late nineteenth century, illustration and photography were two major visual media through which Japanese colonizers constructed the image of Taiwanese aborigines as the Other, for Japanese living in the mainland and also to the outside world. Illustrations and photos were mainly represented through books, illustrated journal, albums and postcards. The representation of body played an important role in the colonial context for it allowed determining at first sight the superiority of one culture or ethnic group to others and it was often used as a means to reinforce the colonial hierarchy. As photography came to replace illustration as the dominant medium, Japanese anthropological photographers continued to use traditional illustrational themes dating back to the Qing dynasty, while also inventing new symbols in their portrayal of aborigines before the camera. To make image an efficient tool to transmit messages, a series of encoded elements and themes was established to represent the status of Taiwanese aborigines as the Japanese colonizers intended to portray it to the outside world. The representation of body could be easily manipulated through image by the integration, the erasure, or the highlight of visual elements which could invent, erase or strengthen the 'strangeness' of Taiwanese aborigines depending on the colonizers' needs in different periods of colonization. The analysis of visual sources reveals the manipulation through different producers of images, who were involved in various visual methods of representation and cultural, ethnic and political contexts, and demonstrates the (re)construction of colonial identity as a fluid process.
---
Playing the Race Card in Japanese Governed Taiwan – Anthropometric Photographs as 'Shape-Shifting Jokers'
Paul D. BARCLAY (Lafayette College, USA)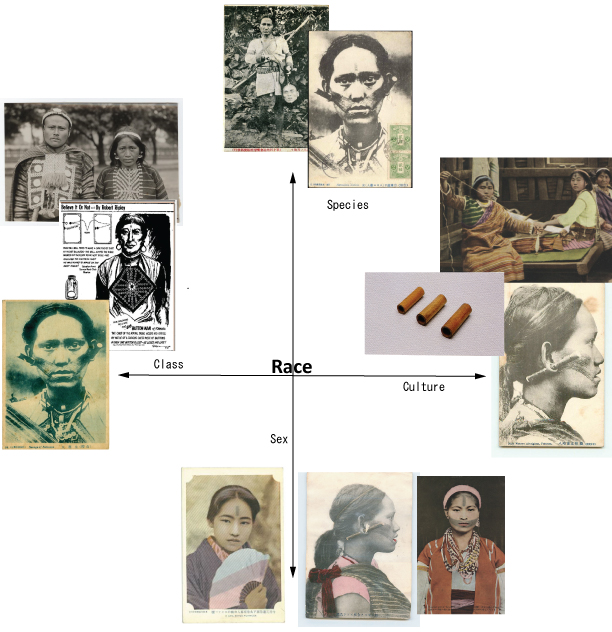 Abstract
A century before the internet era, Japanese ethnologist-photographer Mori Ushinosuke's anthropometric portrait of a Taiwanese woman named Paazeh Naheh (ca. 1880–ca. 1910) went viral. Its heyday was from 1903 through 1920s, but it still continues to be reproduced to this day. This paper traces the life history of this image – as a lantern slide, exposition exhibit, picture postcard, newspaper illustration, and ethnological specimen – from its originary photo session through several trajectories of dissemination. Paazeh's portrait was much more than the exemplar of asymmetrical power relations, mimetic imperialism, and ruthless essentialism it appears to be. Rather, following Chicago-based theorist of visual media W.J.T. Mitchell, I argue that it functioned, and continues to function, as a 'shape-shifting joker' by recommending itself to commercial, academic, and official image-makers for reasons that dovetailed with, or went against, Mori's original purposes. By examining how a much maligned genre – the anthropometric photograph – could be conscripted for a number of competing causes, this paper suggests that we take more seriously Foucault's injunctions about the generative effects of disciplinary procedures. The evidence presented in this paper suggests that Mitchell was correct in asserting that "race is the ambiguous medicine/poison, the pharmakon, for inflicting or alleviating the pain caused by racism."
pdf of presentation: (Barclay Shape Shifting Joker)
---
Russian Constructivism in the Service of the 'Greater East Asia Co-Prosperity Sphere' – Photography in the Propaganda Magazine FRONT.
Andrea GERMER (Kyūshū University, Japan)
'FRONT' magazine (1942) | © THE TRUSTEES OF THE BRITISH MUSEUM Roland Elliot Brown, "Propaganda: artifice by design," Japan Times  July 8, 2013

Abstract
In 1941, the company Tōhōsha (Far East Company) was established by actor and producer Okada Sōzō. Financed by the Mitsubishi, Mitsui and Sumitomo conglomerates, it subsequently published the graphic magazine FRONT (1942–1945) as a new illustrated overseas propaganda magazine. In a time of severe censorship and paper rationing, the magazine appeared in 16 languages, in large format and printed in full colour gravure, with quality that was unthinkable for other productions at the time. FRONT was modelled after the Soviet propaganda magazine USSR in Construction in its photomontages and dynamic design. Its impressively creative and modernistic use of photography, which (in all its artificiality) builds on the myth of photography's veracity, was a transculturally inspired practice by Japanese photographers Kimura Ihei, Hayama Hiroshi and Hayashi Shigeo, graphic designer Hara Hiromu and other contributors. Most of them had been associated with the avant-garde groups Chūō Kōbō (Central Studio) and Nippon Kōbō (Japan Studio), and some had been left-wing intellectuals or had lived and worked (and been jailed) in the Soviet Union (such as Katsuno Kinmasa). This paper assesses the modernist use of photography and design in overseas propaganda for the 'Greater East Asia Co-Prosperity Sphere' and explores the transcultural and 'trans-ideological' flows of modernist aesthetics. It also discusses the transwar careers and self-representations of influential postwar photographers involved in wartime productions.
---
Everyone's a Hero – The Politics and Aesthetics of Japanese Photographs from North Vietnam
Austin C. PARKS (Northwestern University, USA)
Image supplied by Austin C. PARKS
Abstract
The majority of war photographs published in Japan from the mid-1960s to the mid-1970s came from the battlefields of South Vietnam (officially the Republic of Vietnam). Japanese photographs of napalm victims, ravaged communities, dead bodies, and torture represented war as a tragic folly that made victims of combatants and non-combatants alike. From the mid-1960s onward, however, narratives of brutality and suffering in South Vietnam competed for page space with a different representation of war that emerged from Japanese photographs taken north of the 17th parallel in the Democratic Republic of Vietnam (or North Vietnam). Photographs from this 'unknown Vietnam' had their share of wounded bodies, scarred landscapes, and soldiers with guns, but photographers such as Tamura Shigeru, Konishi Hisaya, and Ishikawa Bun'yō more commonly emphasized North Vietnamese solidarity, perseverance, and determination. This paper examines these three influential postwar photographers' work in North Vietnam in order to understand why their visual narratives proved popular among Japanese audiences accustomed to a different vision of war. Part of the answer, I argue, is that visual depictions of North Vietnam resonated with popular memories of a Japan that was fast disappearing in the mid-1960s and they provided alternate models of social and political development at a time when many Japanese favored greater autonomy from the United States.
---
Here are some pictures of Ljubljana from the area near the town center and the University, site of the conference: