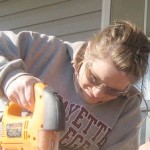 Amber Zuber, Assistant Director of the Landis Community Outreach Center, along with her right-hand student, Rashidah have successfully gone live with the new Alternative School Break web site, which they are managing in WordPress MU as one of our WordPress pilot participants.
Next week, Rashidah, along with a number of students from Lafayette, are traveling to Long Beach, MS to work on housing projects and anticipate posting their daily reflections to their new site. I am very excited to follow their progress throughout the week.
For those interested in following these good deed doers, follow them next week at http://sites.lafayette.edu/asb/asb-reflections.