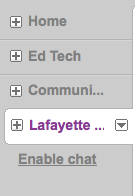 Google, whom I've been having a love affair with for quite sometime because they offer so many incredibly awesome tools for free, has again caused me to lose a bit of faith in them. Last week, a flaw in Google Docs caused less than 0.5% of its users' documents to be potentially exposed to those to which they have shared other Google Docs. Strike one.
Then, sometime in the last few months Google decided to invade my iGoogle and happily place a Chat gadget on my screen. They didn't ask. They just assumed I'd want to use. Well, I DON'T! I found a setting that makes it possible to hide the Chat gadget, but it still leaves a link on my iGoogle to "Enable Chat." When I check to hide it I expect it to be hidden…completely. Strike two.
In my Google love affair world they will most likely need more than three strikes before they're "out," but this recent blunder and this most annoying Chat gadget doesn't impress me. Google, I want the ability to complete remove all remnants of Chat from my iGoogle.
Help me bring back the love.