Nicole Jean Hill
Originally from Toledo, OH, Hill received her BFA in Photography from Nova Scotia College of Art and Design and her MFA in Studio Art from the University of North Carolina at Chapel Hill. She is an Associate Professor of Art at Humboldt State University in Arcata, CA. Her work has been exhibited at Silver Eye Center for Photography, Pittsburgh, PA and the Morris Graves Museum of Art, Eureka, CA, among others. She has done residencies at the Newspace Center for Photography and the Center for Land Use Interpretation.
Her work uses an anthropological approach to image making that explores familiar spaces and activities within the American cultural and natural landscape.  Her project Artifacts & Incidents focuses on the periphery of rural communities in the western US.  The places that exist as neither public nor private space nestled between national forest lands and private property.  The spaces contain evidence of the disruptive character of human activity, efforts at cultivation and the inherent wildness of an environment.
Debbie Grossman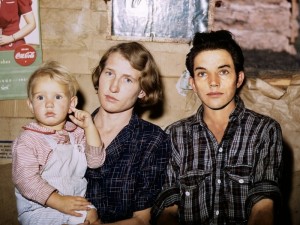 Grossman received her undergraduate degrees in Women's Studies and Art History from Barnard College and her MFA in Photography, Video, and Related Arts from The School of Visual Arts. She is also a Senior Editor at Popular Photography Magazine, where she is the resident expert on image editing software and technique. Her work is in the collection of the Metropolitan Museum of Art and the Jewish Museum, among others. She is represented by the Julie Saul Gallery, New York.
Her work incorporates elements of feminism, historical research, and a deft ability to seamlessly manipulate archival photographs via digital means. Her skill and creativity are evident in her Pie Town and Postmark projects. In Pie Town she has altered a series of Russell Lee photos of a rural town from the 1940's. In the photos she replaces the men with women, creating an imaginary all-female society. These images unite Grossman's affinity for feminism and photo alteration with her enduring interest in life on the American frontier. In Postmark, Grossman creates new letters from her deceased mother by rearranging her mother's preexisting written notes in Photoshop.
www.debbiegrossman.com
Anne Arden McDonald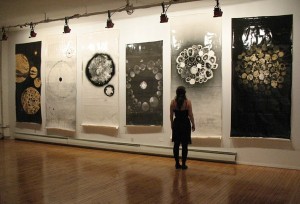 Anne Arden McDonald is an artist who works in a wide range of mediums such as: sculpture, photography, drawing, and installation work. McDonald was born in London, England and grew up in Atlanta, Georgia. From age 15-30 she made self-portraits, for which she is best known, building installations in the landscape or abandoned interiors and making private performances for her camera in these spaces. Her photography reflects her interest in installation and performance.
In the past 10 years, she has had 30 solo exhibitions in 10 countries and has been published extensively, including a book, which came out in 2004. Her work is in the collections of 6 major museums and represented by several galleries, including Marcello Marvelli in New York and Photo Eye in Santa Fe. She is also a private dealer for 12 Czech and Slovak photographers who do performances for the camera and does lectures on the history of staged photography.
www.anneardenmcdonald.com/
Deana Lawson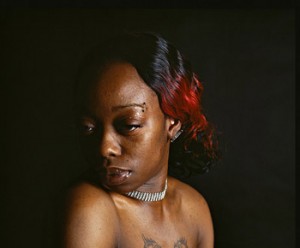 Deana Lawson is a photo-based artist born in Rochester, NY. Lawson received an MFA from the Rhode Island School of Design in 2004. Her work focuses on the psychological, personal, political and historical experiences that are expressed through the body.  Lawson is a recipient of the 2008-09 Aaron Siskind Fellowship Grant and a NYFA Grant in 2006.  Publications include Time Out NY, Contact Sheet, and Photography Quarterly.  Lawson's work has been exhibited widely, and she has held artist residencies at Light Work and Visual Studies Workshop.
Lawson refers to the subjects of her photographs as "her family." Although she is not related to them by blood—in fact, they are nearly all strangers—the pictures are remarkably intimate. Lawson composes almost every element, often sketching scenes out on paper before working with the camera. Reflecting Western and African portraiture conventions, the works examine "the body's ability to channel personal and social histories, drawing on the various formal and informal languages of the medium and its archival capabilities," the artist says. The result is a collection of body compositions portraying humans' limitless variety. Lawson currently lives and works in Brooklyn, New York.
Isidro Blasco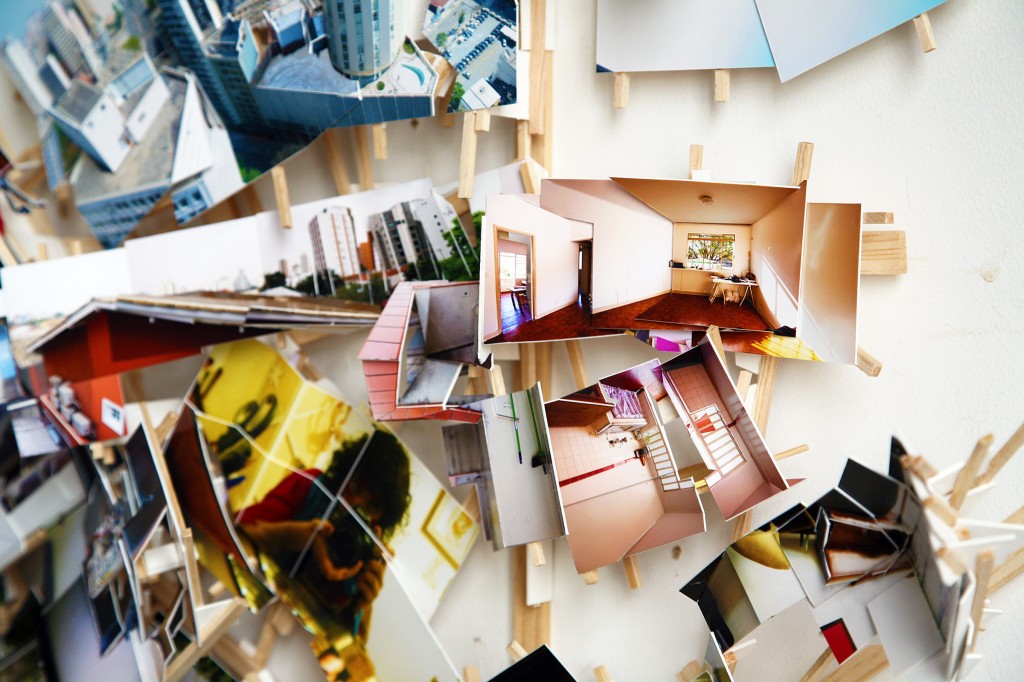 We are proud to welcome Isidro Blasco back to Lafayette College! He will here as an Artist-In-Residence from Nov. 8-16 to meet with students and work on a project.  Isidro will be giving an Artist Talk Thursday Nov. 15, 2012 at 12:00pm in Williams 108.
Kim Keever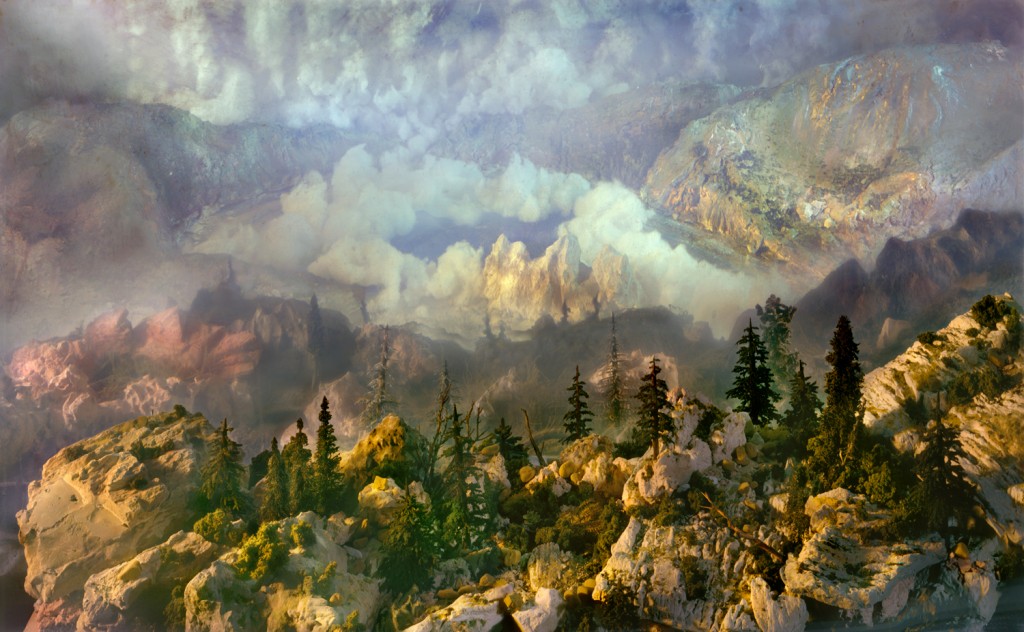 Artist Kim Keever will give an illustrated talk about the photographs on exhibit at the Williams Center Gallery. Keever makes photographs of landscapes assembled inside a 200-gallon tank that is filled with water. He pours in pigment and photographs while the paint flows and spreads, creating photographs that look like 19th century landscape paintings.
Judith Joy Ross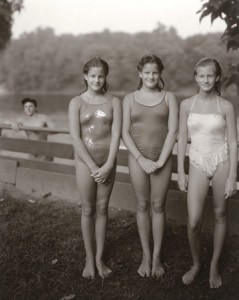 Over the course of the past thirty years, Judith Joy Ross (b. 1946) has produced a remarkable body of work focusing on portraiture. She traditionally works in series and began by photographing people in Eurana Park. Her work often refers to universal social issues and draws on her own life and experiences. For example, she photographed students and teachers in the small Pennsylvania schools that she had once attended. The resulting series of portraits spoke to the challenges of adolescence and growing up. Ross also did a series of people in front of the Vietnam Veterans Memorial in Washington, D.C. and people protesting the Iraq and Afghanistan wars. She uses a large-format camera and works in both black and white and color. She has received numerous awards for her work including a Guggenheim Fellowship and National Endowment for the Arts Fellowship and has published several monographs. Ross lives and works in Pennsylvania. Ross will be giving an Artist talk on Monday September 17, 2012 at 12:00pm in Williams Center for the Arts, Room 108. This talk is open to the public with a reception preceding the talk. Please come and learn more about Judith and her work!
Gary Schneider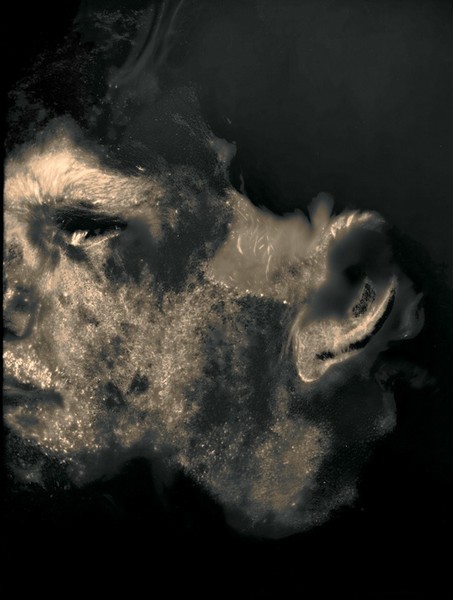 Gary was born in South Africa and moved to New York in the 1970s.  He has a MFA from Pratt Institute in New York and has been exhibiting his photography internationally since 1991.  He is best know for his series 'Genetic Self-Portrait' which was completed in 1998 and exhibited in several museums including The International Center of Photography.   Gary currently teaches at Rutgers University and is represented by the Howard Yezerski Gallery in Boston.
Jesse Burke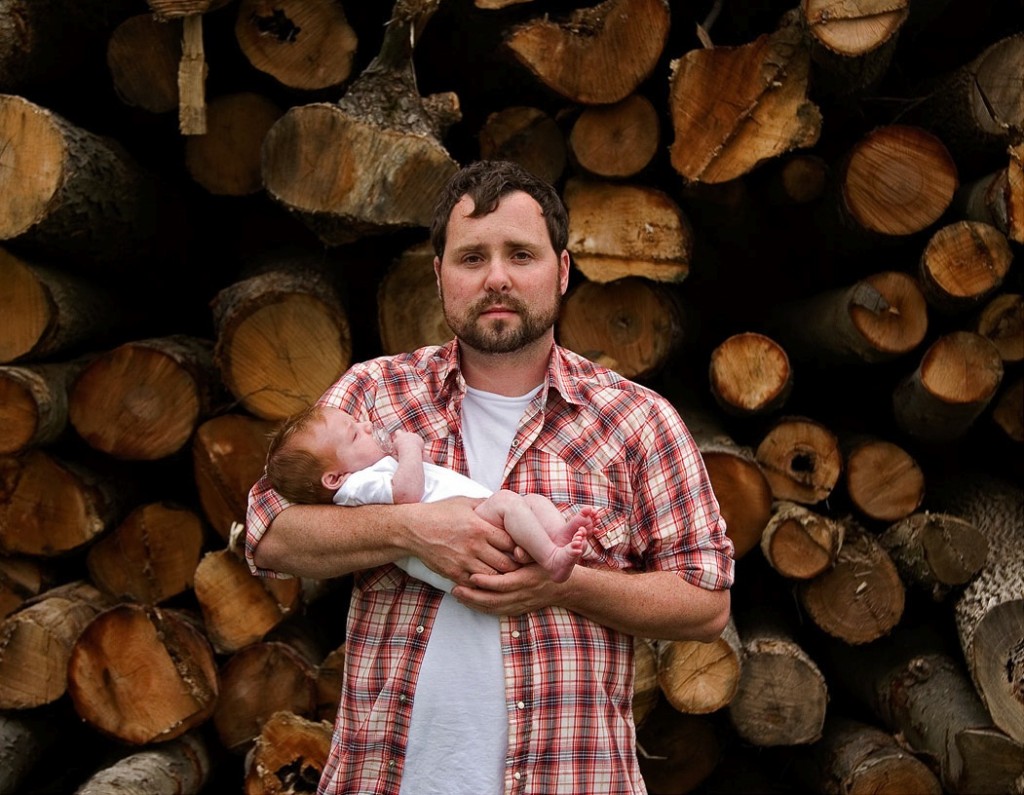 Jesse Burke is a photographer working primarily with themes related to
masculine identity. He received his BFA from the University of Arizona and
his MFA in photography from Rhode Island School of Design in 2005. His
monograph, Intertidal, was published by Decode Books in 2008.  Also in
2008, he received the Rhode Island State Council on the Arts Aaron Siskind
Fellowship. He has exhibited in galleries and museums around the world
including The Haggerty Museum, the Perth Center for Photography, the
Tucson Museum of Art, the Print Center in Philadelphia, and the Lishui
Photo Festival in China. Burke has work in many private and public
collections including the Museum of Fine Art, Houston and the RISD Museum.
Burke is represented by ClampArt in New York City and Platform Gallery in
Seattle, WA. His work has appeared in numerous print publications such as
Time Magazine, ESPN, Men's Health, Fast Co., SLAM!, Vogue España, and W
Magazine.
He currently has work up in the exhibition "The Rural in AMerican Art" at
the Graham Gund Gallery at Kenyon College.
Lisa Kereszi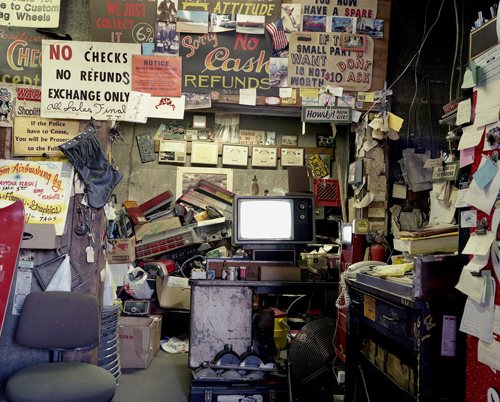 Lisa draws inspiration from the world around her and has a very personal connection with Southeastern PA where she grew up. She is very indebted to the work of Walker Evans. When she was visiting last fall she spent some time following his footsteps from his famous 1930's photographs and connecting them to her own family who settled in Bethlehem. Lisa plans to continue retracing Evan's steps when she returns. She will finish a book this March about her family's auto junkyard titled "Joe's Junk Yard," which will be published by Damiani for a Fall 2012 release.
Maria Martinez-Cañas
Cuban-born photographer Maria Martinez-Cañas brings a sense of her own history and past, as well as a fresh and experimental attitude, to all of her work.  Over the last 30 years, she has used virtually every photographic medium in realizing these ideas; since 2005, she has concentrated on several series that are more personal in their exploration of her identity.
Atul Bhalla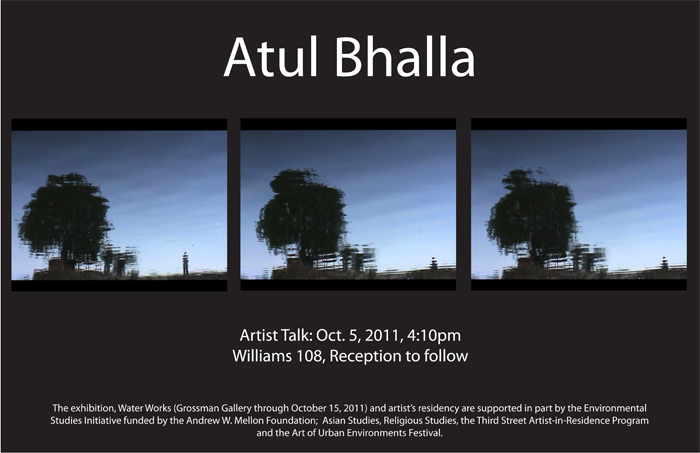 Bhalla addresses the changing natural landscape of his native New Delhi in his work.  His work is centered around the effects of industrialization and overpopulation on the Yamuna River, one of Northern India's most prominent waterways.
Bhalla's photographs, performances and sculptures take on the conflating characteristics of baptism and suicide, birth and death and purification and contamination.  India's rivers have long had religious significance in purifying and healing those that bathe in them.  With overcrowding and immense poverty, however, they have become incredibly polluted and sites of disease.  Bhalla seeks to explore the role of nature in the contemporary South Asian society and evaluates the forces at work in shaping both the environment and the future of its people.
Isidro Blasco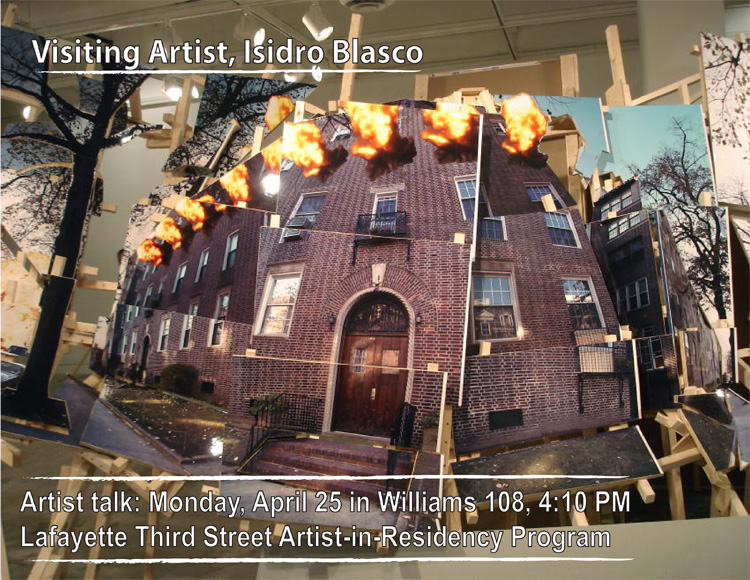 Lafayette College is fortunate to have internationally renown artist, Isidro Blasco visiting April 25-26, 2011.  Isidro is the recipient of the John Simon Guggenheim Foundation Fellowship in Visual Arts and grants from the Public Art Fund, New York Foundation for the Arts and the Pollock Krasner Foundation.  He has had solo shows at the Roger Smith Gallery, New York, NY, Museo Nacional Centro de Arte Reina Sofia, Madrid Spain, P.S. 1, New York, NY and many more.  He combines architecture, photography, and installation to explore themes of vision and perception in relation to physical experience. Blasco often begins by selecting one angle in a room and then constructs a new space from the perspective of that particular vantage point, a fragmentation of a single line of sight that is reminiscent of cubist collages by Picasso, Braque and other early 20th-century painters. Blasco's three-dimensional sculpture results in an elliptical succession of multiple angles and produces a space that is at once recognizable and entirely new.
There will be an Artist Talk open to the public at 4:10 pm on Monday April 25 in Williams 108.
Mary Magsamen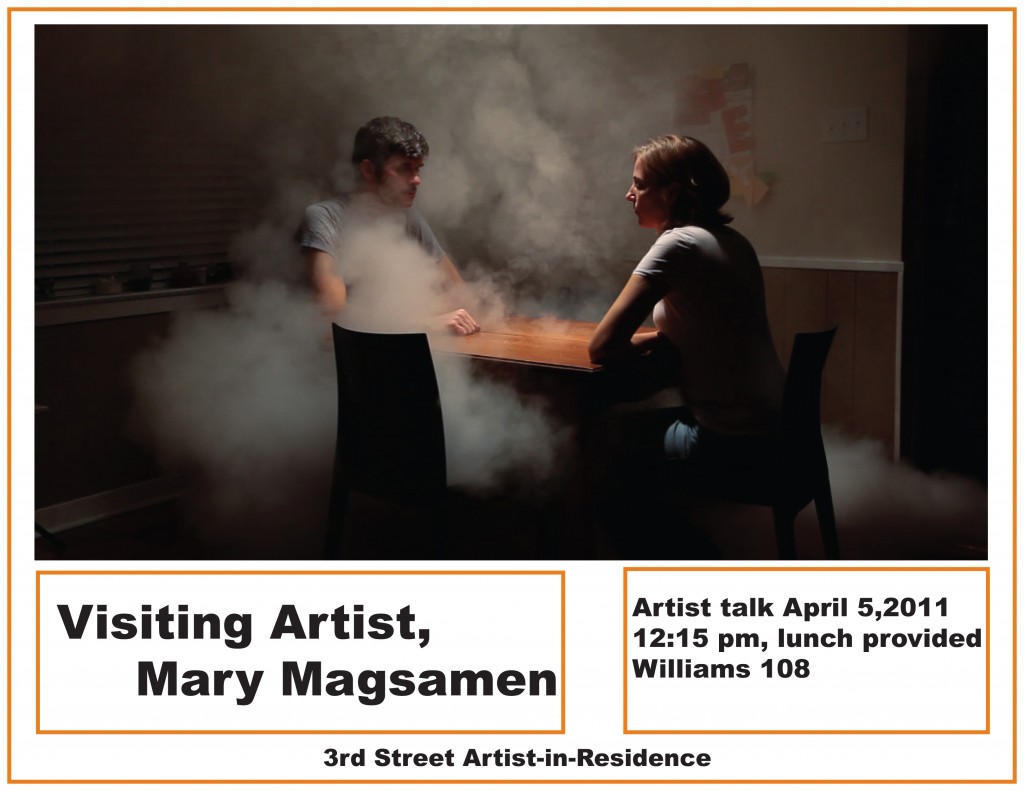 Lafayette College was fortunate to have award-winning artist, Mary Magsamen visiting April 4-5, 2011 as part of the newly established the Third Street Artist-In-Residence Program. Magsamen is most noted for her innovative work with husband, Stephen Hillerbrand. The duo has been working together for many years, collaborating on video art projects that often include collaborative performance. Their films have been screened and exhibited internationally including at the Ann Arbor Film Festival, Boston Underground Film Festival, LA Freewaves New Media Art Festival, Stuttgarter Filmwinter, the Aurora Picture Show, Chicago Underground Film Festival and the Dallas Video Festival, the Hudson River Museum, Boston Center for the Arts Mills Gallery, Light Factory Contemporary Museum of Photography and Film and the Dallas Contemporary.
Many of Magsamen's projects often address issues related to language, identity, media and family in the context of a distinctly American cultural system.  Her conceptual and metaphoric work is beautifully detailed and profoundly executed although at times, unexpected and shocking. She is often the subject of her work (as is her husband, Stephen Hillerbrand) as seen in the short film, "Cheese Puffs." The couple takes turns submerging their faces in a tank full of water and cheese puffs until the water turned opaque with oil and it is filmed in such a way that they appear to be having some kind of conversation with each other. Their goal was to highlight middle class suburbia's relationships with food, fast foods and chain food restaurants that most Americans are acutely familiar with. Magsamen is intrigued by anthropogenic and political relationships and enjoys exploring man's relationship with his surrounding culture and the challenges humans face everyday.