This semester we had the pleasure of hosting Deanna Lawson .  Lawson's work focuses on the psychological, personal, political and historical experiences that are expressed through the body. Lawson brought a diverse and refreshing energy to Lafayette College.
During Lawson's visit she met with senior thesis students and helped critique the progress of Digital Photography III students.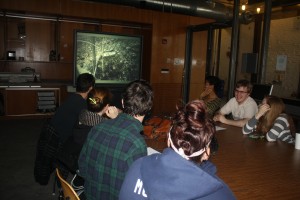 The students loved Lawson's advice, insight and most importantly, her honesty. This candor sentiment translates in her work, which she presented during her artist lecture. When she was not interacting with the students, Lawson worked on printing her own images from a recent trip down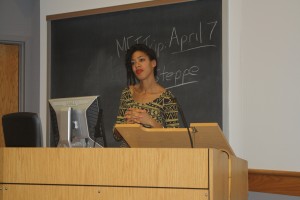 South.
The large format photos paired with a large print medium, allows for us to appreciate the detail in her vibrant portraits. Her images are beautifully constructed and tell the stories of the working class. During her artist talk she spoke about the process in which she chooses subjects to photograph, "I approach people in every day life that look interesting to me." She approaches potential subjects and exchanges contact to schedule a photo shoot. Lawson's process is unique in that she photographs her subjects in their own space. This intimacy reflects in her family portraiture, which is personalized and genuine, despite her subjects being strangers. Lawson is currently back at Lafayette shooting the local residents of
Easton, using the same selection process.