Hope and Other Dangerous Pursuits
by Laila Lalami
Community Reading
Ongoing
Save the Date: Laila Lalami will give the Community Reading Keynote Address on March 21, 2018.
Each summer, Lafayette invites the entire community—students, faculty, staff, alumni, and our neighbors in Easton and surrounding areas—to read a work of literature that we will explore together throughout the upcoming academic year.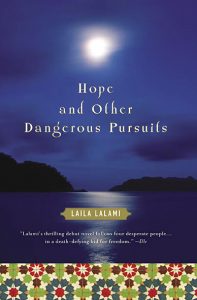 The choice for summer 2017 is Laila Lalami's acclaimed 2005 debut novel, Hope and Other Dangerous Pursuits.
From the publisher:
Hope and Other Dangerous Pursuits evokes the grit and enduring grace that is modern Morocco. As four Moroccans illegally cross the Strait of Gibraltar in an inflatable boat headed for Spain, author Laila Lalami asks, What has driven them to risk their lives? And will the rewards prove to be worth the danger? There's Murad, a gentle, unemployed man who's been reduced to hustling tourists around Tangier; Halima, who's fleeing her drunken husband and the slums of Casablanca; Aziz, who must leave behind his devoted wife in hope of securing work in Spain; and Faten, a student and religious fanatic whose faith is at odds with an influential man determined to destroy her future. Sensitively written with beauty and boldness, this is a gripping book about what propels people to risk their lives in search of a better future.
"A dream of a debut, by turns troubling and glorious, angry and wise." —Junot Diaz
Gain a little insight on the story from the author herself, add this novel to your summer reading pile, and then join us throughout the 17/18 academic year for multidisciplinary events that will provide a context for us to delve into the book's themes together, as a community.