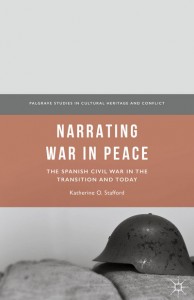 My research is primarily concerned with the negotiating relationships between the past and the
Recent articles:
"Multisensorial Empathy: The Skin of Memory in Almudena Carracedo's El silencio de otros    (2018)." (with Cristina Martínez-Carazo). Hispanófilia 190.
"Fascist Space and Film: Spatial Practice and Ideology in El Valle de los Caídos (1963) and La sombra de la cruz (2013)" Journal of Spanish Cultural Studies 23:4 (2022).
"The Myth of Marisol in Twenty-first Century Cultural Production." Revista de Estudios de Género y Sexualidad (previously Letras Femeninas) 44:2 (2019).   jgendsexustud.44.2.0063
"Recuerda que soy tu criatura: de 'francosteins' y su memoria." Hispanic Issues Vol. 19 (2017): Article 1.        https://cla.umn.edu/sites/cla.umn.edu/files/hiol_19_00_introduccion.pdf
"Remembering the Perpetrators: Nationalist Postmemory and Andrés Trapiello's Ayer no más," Dissidences Vol. 5 (2014): Iss. 9, Article 13.        http://digitalcommons.bowdoin.edu/dissidences/vol5/iss9/13/
"Photojournalism and Memory: Agustí Centelles in the Transition and Today" Bulletin of Spanish Studies Vol. 91 (2014): Issue 8. http://www.tandfonline.com/eprint/teAs6ztw9kSPDVQRurGS/full