I always have a good time perusing the scrapbooking aisle in the local arts and crafts store—although I am not a scrapbooker myself, the idea of such a personalized way to store memories is indeed appealing to anyone interested in archival studies.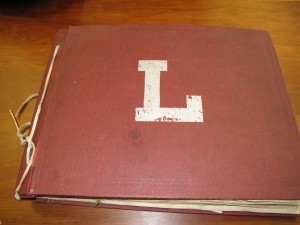 Lafayette College has its own collection of historical scrapbooks from a variety of sources. These scrapbooks can range from a few loose pages of newspaper clippings to detailed volumes with photos, memorabilia, and commentary by the creator. My most recent project in Special Collections has been to work with five of these scrapbooks in order to better understand what they contain and how to represent their importance to the history of Lafayette College.
Two of the scrapbooks were created by individual Lafayette students from the early 20th century—Edwin Fager and Lewis Grant Teetsell. These individuals were two students who attended Lafayette between the years of 1910 and 1917, but their scrapbooks reflect two different aspects of Lafayette life.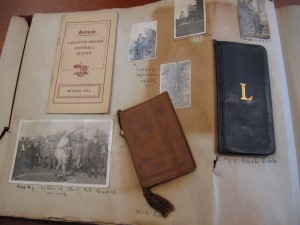 Edwin Fager was a star of the Lafayette baseball team, and his scrapbook includes newspaper clippings highlighting his sports accomplishments. In addition to his baseball accomplishment, a volume in Special Collections which provided biographical details of the "Men of Lafayette" also revealed that Fager was a member of Phi Kappa Psi fraternity. Related to this scrapbook was the oversized scrapbook (almost 2 feet long!) which detailed the trips of the Lafayette baseball team to the College World Series in Omaha, Nebraska from 1953 to 1966. Included are team photos, and a stunning collection of Western Union telegrams from family members of team members, Lafayette staff/faculty/students, and other sports fans. Imagine getting a stack of telegrams every day to congratulate you on a job well done in such an important game!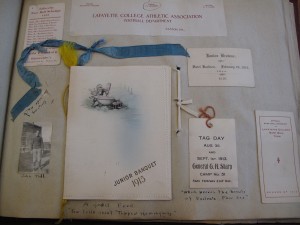 Lewis Grant Teetsell's scrapbook reflects a different aspect of campus life during the early 20th century. A member of Delta Upsilon fraternity, Teetsell's scrapbook includes a wonderful collection of photographs of fraternity brothers and other students and memorabilia related to other campus events.
I was most struck by the large number of dance cards within the scrapbook's pages. Commonplace during the Victorian era up until the 1940s, these cards were used to reserve specific types of dances (or specific songs) with specific individuals (and competition was fierce to dance with the lady of your choice, in this era of limited women coming to Lafayette's campus!). The cards are extraordinary not just for the stories they tell, but also for their construction. Often, they are ornate, and are created from anything from cardboard covers to hard plastic with metal bindings. Several have their own small pencils attached to the cards via strings.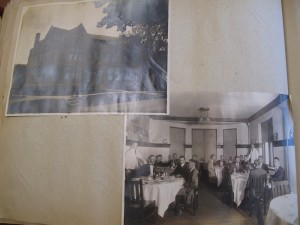 Teetsell's scrapbook records a different type of Lafayette social scene than students are used to on today's campus. Dances were all extraordinarily well-planned, and lavishly decorated. As Teetsell put it several times, the banquets provided for these events were often a "good feed." I was entranced by this opportunity to look into a different era of Greek life and social life at Lafayette—and hopefully you take the opportunity to take the trip up to Special Collections to see it!
Sara Walter is the Advanced Archival Assistant. She is a senior double major in History, Government and Law, and Spanish.