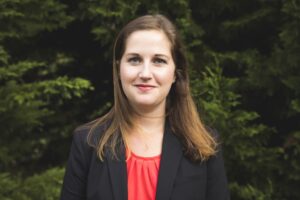 My name is Abbey Mann, my pronouns are she/her. I am an Assistant Professor in the Psychology Department at Lafayette College in Easton, PA.
I earned a B.A. in psychology from Bryn Mawr College (2007) and an M.S. (2012) and Ph.D. (2016) in Community Research and Action from Vanderbilt. I was a postdoctoral research fellow in the Department of Psychology at East Tennessee State University (ETSU) (2016-2017), I was an assistant professor at ETSU's Quillen College of Medicine in the Department of Family Medicine (2018-2021).
In 2021 I joined the faculty in the Psychology Department at Lafayette College. Go Pards!
I am originally from Philadelphia, PA, where I spent the first 22 years of my life. I have since lived in Boston, Nashville, Pittsburgh, and Johnson City, TN.
When I'm not working, I enjoy running, hiking, camping, and traveling with my spouse, two kids, and two dogs.