Join us for the Covid-19 and Poverty in Easton: a Digital Discussion on June 3 at 6:30pm
A panel discussion exploring poverty in Easton, PA in recent history as well as the short- and long-term impacts of the COVID-19 crisis on the Lehigh Valley's most vulnerable socioeconomic populations. This panel features representatives from three local organizations which traditionally work to combat inequality and provide essential social services in the Easton area. Discussion topics will include access to resources and opportunities (in education, housing, technology, employment and healthcare), domestic challenges, mental health issues, and the institutional barriers to addressing these issues.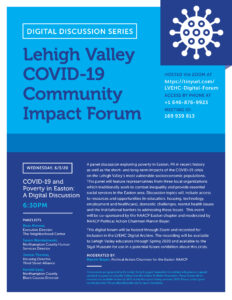 This digital forum will be hosted through Zoom (https://tinyurl.com/LVEHC-Digital-Forum) and moderated by NAACP Political Action Chair Marvin Boyer and feature the following panelists:
* Ross Marcus – Executive Director, The Neighborhood Center
* Susan Wandalowski – Northampton County Human Services Director
* Janice Thomas – Housing Director, Third Street Alliance for Women & Children
* Harold Levy – Northampton County Black Caucus Director
This event is sponsored by the Lehigh Valley Engaged Humanities Consortium, with generous support provided by a grant to Lafayette College from the Andrew W. Mellon Foundation.