"Writing Towards Community": a talk on memoir, immigration and queer latinidad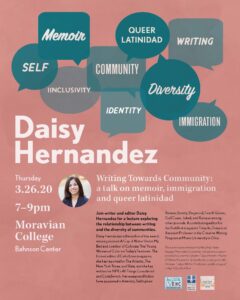 Thursday, March 26, 2020, 7-9 PM
** UPDATE**
Due to the coronavirus pandemic, the keynote will be offered via Zoom at: https://lafayette.zoom.us/j/102505452…
Please email pittsk@lafayette.edu for the meeting password.
Join writer and editor Daisy Hernandez for a lecture exploring the relationship between writing and the diversity of communities.
Click here for Facebook event details.
Daisy Hernandez is the author of the award-winning memoir A Cup of Water Under My Bed and co-editor of Colonize This! Young Women of Color on Today's Feminism. The former editor of ColorLines magazine, she has reported for The Atlantic, The New York Times, and Slate, and she has written for NPR's All Things Considered and CodeSwitch. A contributing editor for the Buddhist magazine Tricycle, Daisy is an Assistant Professor in the Creative Writing Program at Miami University in Ohio.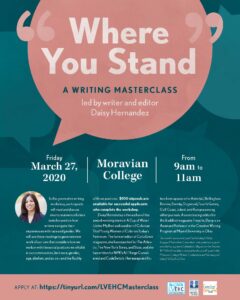 "Where You Stand": a Writing Masterclass
APPLICATIONS ARE OPEN for the March 27th, 2020 Writing Masterclass led by Daisy Hernandez.
DEADLINE: February 21, 2020
$100 stipends are available to successful applicants who complete the workshop. To apply, please visit: https://tinyurl.com/LVEHCMasterclass
In this generative writing workshop, participant will read and discuss short creative nonfiction texts focused on how writers navigate their experiences with race and gender. We will use these readings to generate new work of our own that considers how we reckon with the social positions we inhabit in our communities, be it race, gender, age, ableism, and so on – and the fluidity of these positions.
These events are sponsored in part by the Lehigh Valley Engaged Humanities Consortium, with generous support provided by a grant to Lafayette College from the Andrew W. Mellon Foundation. Special thanks, as well, goes to the Moravian College Writers' Conference and the inaugural Lehigh Valley Book Fest.