Connecting "Ethnic American Literature" Course to Lehigh Valley Communities
A Course Enhancement Reflection by Dr. Andrew Uzendoski
In the fall of 2018, I taught the course English 135: Ethnic American Literature at Lafayette College. The course surveys twentieth-century literature by a selection of writers representing diverse ethnic and national identities; students read poetry, fiction and non-fiction by Asian American, Latinx, African American, and Native American writers. Our readings were organized by a variety of topics including the Harlem Renaissance, American Indian boarding schools, immigration laws at the turn of the twentieth century, the legacy of Japanese internment camps, and the civil rights movement. Texts that students read included Passing by Nella Larsen, No-No Boy by John Okada, American Indian Stories by Zitkala-Sa (Yankton Dakota), and Borderlands by Gloria Anzaldúa.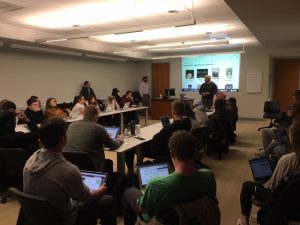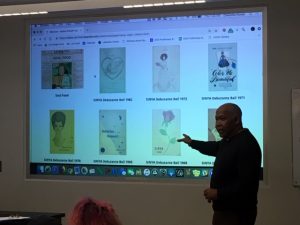 Above: Marvin Boyer of the NAACP Easton Chapter speaks to Dr. Uzendoski's class.
For the final unit of the course, I designed an assignment that required students to connect topics discussed in our course texts to the experiences of communities in the Lehigh Valley. For the assignment, students were asked to curate a public online exhibit on the lived experiences of African American communities in Easton in the twentieth century. To create the exhibit, students selected materials from an online archive created by the Easton branch of the NAACP, the Sigal Museum, and Lafayette College Libraries. Students then analyzed and organized the archival materials by placing them into conversations with our course readings. In the final exhibit, students use literary texts to interpret specific materials in terms of course topics and themes including ethnic identity, income inequality, social justice, and gender expectations. During the process of creating the class exhibit, local NAACP affiliates Marvin Boyer and Clifford Ransom visited the class to consult with the students on the historical background of specific materials and to share insight into the role played by the Easton NAACP in shaping local institutions. A primary goal of this assignment was to encourage students to use literary texts as tools to understand and contextualize local histories and institutions in Easton and the surrounding area. I also wanted to provide students with an opportunity to improve digital literacy in a humanities context while offering students the opportunity to address an audience outside of the classroom. Ultimately, the assignment was a successful way to conclude our intersectional discussions on identity and to encourage conversation and collaboration between the student body at Lafayette College and the diverse communities that live in the Lehigh Valley.