In Fall 2018, Greta Bergstresser introduced a new course at Lafayette College, sponsored by an LVEHC Course Development grant.  This course introduced students to the history and techniques associated with Documentary Photography and asked them to each create a documentary project based in the greater Lehigh Valley in an area they were interested in.  The course included artist talks/visits from prominent Documentary photographers both local and based in New York City including Marco Calderon, Joseph Elliott, Christopher Payne, and Nat Castaneda. The class also had several interactions with local cultural institutions and historians, including a private tour of the National Museum of Industrial History led by Historian Mike Piersa, a walking tour of the Steel Stacks, and numerous trips to the Lafayette Art Study Center to speak with Curator Michiko Okaya. As depicted in the photos below, the class also viewed photographic prints from the Lafayette Collection and visited the Lafayette Library's Special Collections to speak with Librarian Pam Murray about the extensive collection of artists books at Lafayette College.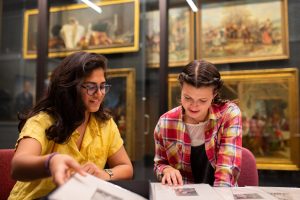 Photos courtesy of Lafayette College/Clay Wegrzynowicz
The students spent the second half of the semester pursuing individual projects of particular interest to them including topics such as locally sourced food, micro-breweries, family owned and operated Latino restaurants, and female runners.  The projects culminated in the creation of handmade artist books that combined images with text in a photographic essay format. Images of the books will ultimately become part of the LVEHC digital archive.
The course brought students together with members of the community in collaborative ways and fostered connections and relationships that will last beyond the end of the semester.