On Thursday, September 27th from 6:30 – 8:30pm, State Representative Bob Freeman and a gathering of community members (including LVEHC Co-Director Dr. Andrea Smith, Lafayette College) will be re-visiting the history of local urban renewal projects of the 1960s, 1970s, and early 1980s. Specifically, they will discuss the change Easton has undergone during its commercial and cultural revival and how this impacted the local community.
Learn why the projects were initiated and what advocates hoped to achieve and hear memories of "Syrian Town," a multi-ethnic neighborhood of Lebanese, Italian, Anglo and African American residents in the heart of Easton that was dismantled in the name of progress. There will be a period of audience participation and a chance to share your story!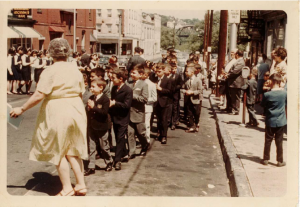 Urban Renewal: Community Dialogue
Time: 6:30pm – 8:30pm
Location: Sigal Museum, 342 Northampton St, Easton, PA 18042
Cost: NCHGS members free. $5 non-members
This program is co-sponsored by the Lehigh Valley Engaged Humanities Consortium, a grant initiative generously funded by the Andrew W. Mellon foundation. It is also a lead-up to Destination: Northampton County, a new permanent exhibition coming in 2019 that celebrates ethnic diversity and immigrant contributions in Northampton County, with a focus on the past 50 years.